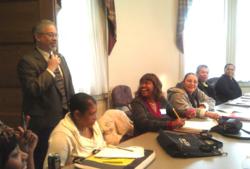 There is a strong job market for people skilled in the administration of medications
Middletown, NJ (PRWEB) May 28, 2013
Longtree & Associates, LLC, a long-term care education and seminar company, invites all New Jersey certified nursing assistants and certified home health aides the opportunity to enhance their skills in the assisted living field by becoming a certified medication aide, or CMA. Longtree will offer several four-day certification workshops monthly with a focus on preparing certified nursing assistants (CNA) and certified home health aides (CHHA) to sit for the NJ Department of Health Certification Exam to become a certified medication aide. The course is approved by the New Jersey Department of Health and Senior Services and the New Jersey Department of Nursing.
"With the growing and aging population in assisted living communities there is increased demand for trained health care professionals who can properly and safely dispense medications," said Patrick Loughney, president of the firm; Longtree prepares frontline professionals and health care executives in the long-term care field for successful passage of certification exams with the New Jersey Department of Health. "Residents are taking more medications more frequently, and it is vitally important that more qualified employees are certified as CMAs."
The Longtree & Associates' CMA course will be offered from 8:30 a.m. to 4:30 p.m. at the following dates and locations:

June 10, 12, 17, 19 at Wexford Assisted Living, 2018 Route 35 in Spring Lake, NJ.
July 25, 26, August 1, 2 at Roseville Manor Assisted Living, 285 Roseville Avenue, Newark, NJ.
September 26, 27, October 3, 4 at Roseville Manor Assisted Living, 285 Roseville Avenue, Newark, NJ.
For complete future course schedule, click here.
A Step up the Job Ladder
New Jersey is one of the few states that allow a certified nursing aide or certified homemaker health aide to take an additional 30 hours of training to be certified as a Certified Medication Aide. CMAs are under the direct supervision of and receive ongoing quality assurance checks by both registered nurses and pharmacy consultants.
Loughney said job opportunities are growing for certified medication aides. Statistics compiled by the State of New Jersey point to the strong job market for CMAs in assisted living communities as well as in the home:
In 2010, only ten percent of permanent residents required limited assistance with medication. However in both 2010 and 2011, 74 percent required total assistance with medication.
The percentage of discharged residents requiring limited medication administration assistance in 2011 was 9.2 percent; 81 percent of discharged residents required total assistance.
In 2011, 70 percent of assisted living communities reported having an active CMA program.
By handling this time-consuming task of medication management, CMAs provide valuable assistance to busy nurses. Since they are also certified nursing assistants they also perform other personal care duties, which give them more time to observe and be with residents or patients, and provide feedback about changes in the resident to the medical staff.
"Becoming a CMA is a step up in the career ladder for many people who later decide to go into nursing or become a certified assisted living administrator," explained Loughney, " One of our former Longtree students who became a CMA went on to become the youngest certified assisted living administrator in the state."
Workshop Details
The workshop will be presented by Certified Medication Aide Training Coordinator and Lead Trainer Mary Ginn, RN, CALA and pharmacist Gregg Lubinsky, President of GIL Pharmacy Consulting. The first part of the course covers medication purposes, effects, abbreviations, and common administration errors; proper storage, and administration of medications. The second part deals with how to assist individuals with self-administration of prepared treatments, insulin injections, and other medications taken via inhalation or other pathways.
"This course can lead attendees into the future of medicine," said Ginn. "There is a strong job market for people skilled in the administration of medications, and this track can also lead people into other opportunities in health care such as pharmacy technician." Ginn will review some of the job opportunities this certification opens up for participants during the workshop.
To enroll in the CMA certification course, students must be a CNA or CHHA with New Jersey certification, consent to a current criminal background check, and be in good standing with the New Jersey Board of Nursing and the DHSS. Tuition is $495 and includes 30 hours of course work, DHSS training manual, and, an extra bonus, the three required student-medication passes are provided at no extra charge. A non-refundable deposit of $100 is required in advance to reserve a spot and the balance is due by the first day of class. Longtree & Associates offers additional discounts on its other courses to encourage students to become certified in other areas that serve seniors and that help boost students' job mobility.
For registration and payment information, contact Barbara Rimorin at (732) 757-9955 or longtreena(at)aol(dot)com or go to http://www.njcala.com. Or Facebook LongtreeEducation. Deposits should be sent to Longtree & Associates, LLC, 45 Pacific Avenue, Middletown, NJ 07748.