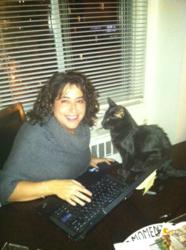 "The fifteen shelters on this tour prove that helping animals and helping people go hand-in-hand," says Cooper.
New York, NY (PRWEB) April 18, 2013
Corporate Partner Litter Genie ® to distribute free Litter Genie® litter disposal systems to each attendee at each event*
8,000 pounds of litter, 6,000 cans of food, plus blankets and toys donated by sponsors and fans
In support of her new novel LOVE SAVES THE DAY (Bantam, 2013), narrated primarily from the perspective of a rescue cat named Prudence, New York Times Bestselling author Gwen Cooper (http://www.gwencooper.com) is forgoing the usual author tour of bookstores. Instead, Cooper has selected 15 no-kill animal shelters, sanctuaries, and rescue groups across the country to participate in the LOVE SAVES THE DAY National Tour—from New York to Los Angeles, from Oregon to Atlanta, from towns as small as Aiken, SC to cities as large as San Francisco and Chicago. Cooper will read from her new book; meet fans, fellow aurophiles, and shelter volunteers and staff; and distribute desperately needed in-kind donations collected from corporate and private donors. Additionally, Litter Genie® litter disposal system (from the makers of the popular Diaper Genie® diaper disposal system) will donate a complimentary Litter Genie® to all event attendees at each tour stop*. The three-month tour will kick-off in New York City at Bideawee on May 2nd, culminating in August with a reading and event at Best Friends in Los Angeles. Cooper will also make two additional September stops in North and South Carolina.
"When you help animals, you help people," says Cooper, whose 2009 memoir Homer's Odyssey about her blind cat, Homer, was an instant bestseller in both hardcover and paperback and has been published in more than 15 foreign languages and 25 countries across the globe. "Every rescue organization in this country is doing its part to promote cleaner, safer, happier communities by taking animals off the street and placing them in loving homes," she adds. "Hundreds of them have taken that mission of community service even further with unique programs that also directly serve people. I'm incredibly proud to be working with a select handful of them on this tour."
Love does save the day for millions of abused and abandoned animals—and for humans as well. The shelters and rescue groups on the LOVE SAVES THE DAY Tour have been selected on the strength of innovative programs that extend their work with animals into programs that also serve people—with outreach initiatives that serve the elderly, the homeless, the disabled, at-risk children, military families, disaster survivors, domestic violence victims, and more. Some of them are small—such as the Pixie Project in Portland, currently housing only 13 cats—and some are large—such as LA-based Best Friends, one of the largest no-kill rescue organizations in the country. But all of them are changing lives for the better, whether those lives go on four legs or two.
As examples of such programs featured on the LOVE SAVES THE DAY Tour, Cooper points to Red Paw in Philadelphia, a "Red Cross for animals" that provides 24/7 emergency veterinary care, foster placement, pet-friendly hotel accommodations, and other emergency services to animal-owning families suddenly displaced by home fires or other disasters. Seer Farms, an animal sanctuary in Ocean County, NJ that doesn't adopt animals out like traditional shelters, provides long-term housing and care for animals whose human families have lost their homes to foreclosure or disasters like Hurricane Sandy, military servicemen and women about to deploy overseas who don't want to lose a beloved family pet, and domestic violence victims and other families in crisis. Wayside Waifs in Kansas City administers their "No More Bullies" program utilizing therapy animals to more than 30,000 public elementary school students in the Kansas City area. Puppy Dog Tales, administered by the San Francisco SPCA, works with children and therapy animals to improve literacy and reading-aloud skills in students with learning disabilities or for whom English is a second language. Portland's Pixie Project has gained national attention for their efforts to provide low-cost-to-free veterinary services for animals living among Portland's homeless population, one of the nation's largest.
"Many people believe that helping animals may come at the expense of helping humans who also need assistance," says Cooper. "The fifteen shelters on this tour—representative of the kind of work being done by so many others—prove that helping animals and helping people go hand-in-hand."
Chikako Harada, Brand Manager for Litter Genie®, notes that, "Litter Genie® is honored to be a part of Gwen's book tour and support animal welfare. We love all cats and hope that the Litter Genie® disposal system makes it that much easier for people to care for their pets and consider adoption for the future."
In addition to corporate/sponsor donations of food, litter, and Litter Genies®, Cooper has designated a "Homer's Hero" in each of the 15 tour cities to wrangle thousands of individual donations of toys, blankets, and other "creature comforts" arriving from across the US and abroad, and ensure that they are distributed to the tour shelters. "Corporate generosity is indispensable to the non-profit community," says Cooper, "but grass-roots support is essential as well. This tour highlights how companies and individuals can work together to change the lives of people and animals for the better."

Litter Genie® system provided to all event attendees while supplies last. In the event that turnout exceeds supply, coupons for $5.00 off the purchase of a Litter Genie® system will be provided.
# # #
About Gwen Cooper:
Gwen Cooper is the New York Times Bestselling author of the memoir Homer's Odyssey: A Fearless Feline Tale, or How I Learned About Love and Life with a Blind Wonder Cat as well as the novels Love Saves the Day and Diary of a South Beach Party Girl. A Miami native, Gwen spent nearly a decade working in non-profit administration, marketing, and fundraising. She has coordinated and led direct-service volunteer programs on behalf of numerous organizations including the Miami Lighthouse for the Blind, Miami Pet Rescue, His House, and Family Resource Center (an organization providing emergency shelter for abused children). She also initiated Reading Pen Pals, an elementary school-based literacy program in Miami's Little Haiti. Gwen donates 10% of her royalties to organizations that serve abused, abandoned, and disabled animals, is a frequent speaker at shelter fundraisers across the country, and serves on the Advisory Board of Tabby's Place, a cage-free no-kill shelter in Ringoes, NJ. She currently lives in Manhattan with her husband, Laurence. She also lives with her three perfect cats—Homer, Clayton, and Fanny—who aren't impressed with any of it. You can follow Gwen at http://www.gwencooper.com, on Facebook at https://www.facebook.com/Homerblindcatfans and on Twitter @HomerBlindCat
About Litter Genie:
Created by the makers of Diaper Genie® diaper disposal system, the Litter Genie® disposal system provides a convenient, effective solution for getting rid of soiled cat litter. The Litter Genie® system can hold up to two weeks of cat waste before needing to be emptied – taking out the everyday hassle of going to the outside trash. Additionally, the unique pail design and the 5-layer disposal bag inside of the Litter Genie® system help to control odors like no other product on the market today.
For more information, visit them on the web at: http://www.littergenie.com