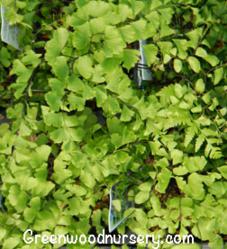 Even the sunniest spot in a house is like shade outdoors.
McMinnville, TN (PRWEB) January 11, 2013
Greenwood Nursery announces their Maidenhair Ferns garden plants are featured in an article on page 24 of the January 2013 issue of Southern Living Magazine as well as their online magazine.
Many garden plants do lend themselves to growing indoors. "A bright spot in a room with limited drafts will be good for these ferns. Remember, even the sunniest spot in a house is like shade outdoors," notes Cheryl Jones, owner of Greenwood Nursery. "Keep the soil in the pots moist – not wet. Indoor air can be very drying, especially during cooler weather."
Maidenhair Ferns shade garden plants are pretty, delicate and wiry with purple to brown petioles and feathery, circular fronds that grow outward in a flat, fan like position. Maidenhair Fern's are slow spreading and non-invasive ferns.
For a limited time, Greenwood Nursery is offering their Maidenhair Ferns at special prices for magazine readers. The ferns are available for immediate shipping as dormant plants or booked ahead for spring shipping.
Greenwood Nursery ships plants from their online plant catalog throughout the continental United States. Visit the Greenwood Nursery Online Plant Catalog for a complete selection of the outdoor ferns and other plants for the home garden.
Steve and Cheryl Jones founded Greenwood Nursery, an Online Plant Nursery, McMinnville, TN, in 1978 as a wholesale and propagation nursery. In 1998, they took their plant catalog online offering a wide selection of garden plants to the home gardener.
For further information or to place an order, please visit http://www.greenwoodnursery.com. Questions may be sent by email or by phone during office hours, Monday through Friday, 8am to 4pm central time.