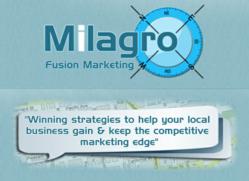 Disney Land Villas has some great properties in Florida and we look forward to enhancing their brand and reputation on the Web
Orlando, Florida (PRWEB) May 28, 2013
Disneyland Holiday Villas Florida provides luxurious, spacious and well equipped vacation villas to families visiting the Sunshine State. The company's villas are all located in the Davenport area of Orlando and are no more than 30 minutes drive from many of the major visitor attractions.
Milagro Fusion Marketing is providing a complete website design, hosting and online marketing service to Disneyland Holiday Villas to help increase its brand visibility, website traffic and attract new rental clients.
"Milagro Fusion Marketing comes highly recommended." explained Ms Aitkenhead manager and co-owner. "They are well respected Marketing Consultants in Glasgow with a proven record in getting page one Google rank, so when we decided to buy a website they were the natural choice for us."
Ms Aitkenhead continued, "Florida is such a great place for a family holiday. The sun shines 70 per cent of the time and there are over 650 miles of beaches. It's also the theme park capital of the world and has amazing wildlife. Our villas are truly outstanding and with Milagro's marketing know how we aim to spread the word and stand out in the competitive Florida villa rental market."
"This is going to be a fun and exciting digital marketing project for us. Disneyland Villas has some great properties in Florida and we look forward to enhancing their brand and reputation on the Web and bringing them new clients" said Christian Morletti, one of Milagro's social media assistants
About Disneyland Holiday Villas Florida
Disneyland holiday villas Florida is a family owned villa rentals and property management company. The company specialise in finding the perfect, luxury family villa with fully equipped games rooms and swimming pool for UK holiday makers visiting Disneyland's Orlando resort.
About Milagro Fusion Marketing
Milagro Fusion Marketing brings specialist digital marketing and publishing services to, entrepreneurs and businesses who want to skyrocket their online visibility and popularity via digital and social media channels. Milagro Fusion Marketing specialises in content marketing, Kindle and paperback publishing, public relations and SEO. The owner Maya Mendoza was recently awarded the title Best Marketing Consultant Glasgow, UK