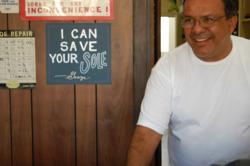 The DDA is very excited to have this remarkable opportunity to say "thank you" to all the incredible employees that serve within Downtown Delray Beach.
Delray Beach, FL (PRWEB) June 28, 2013
Delray Beach Downtown Development Authority (DDA) invites all the employees of businesses, management staff and property owners within the DDA district to a day of appreciation. This event is a complimentary experience for the individuals who work hard every day making Downtown Delray a fun place to visit and live. The DDA, in partnership with the SunTrust Bank and the Miami Dolphins, on Wednesday, July 17, 2013, have planned a special day for the employees of these small businesses to be pampered and to have some fun.
The SunTrust Bank at 302 E. Atlantic Avenue will be transformed from a contemporary business banking facility to a festive space filled with great food and drinks, and a beauty bar section providing makeup and hair sessions along with fashion tips. There will be opportunities to received great gifts and giveaways and explore the valued options SunTrust Bank has to offer businesses and individuals including SunTrust at Work, a premier Financial Wellness benefit offered to all employees in the DDA district. The Miami Dolphin Cheerleaders will be making an exclusive appearance, taking photographs with guests and giving away great prizes such as tickets to this season's home games. Delray Subaru will also be on site throughout the day providing test – drives in their 2013 and 2014 models along with giving all the employees free gifts and an opportunity to win some amazing prizes. "Your SunTrust Partners are anxious to meet and get to know their neighbors in Downtown Delray Beach better", says Mary Monusky, VP Business Development, SunTrust Bank, "and to say thank you for all they do for everyone – those that work here and visit here."
A charity component has been developed as part of the event called "Hand Bag it Over" for 'Dress for Success of the Palm Beaches'. SunTrust and the DDA are asking the attendees to bring a previously used hand bag or briefcase as a donation and they will receive a gift certificate from Second Time Around, a local small business in Downtown Delray Beach. Following the day event, a VIP Reception will take place from 5pm – 7pm for the property owners, sponsors, executives and other guests providing a special evening to network and special recognition.
"The DDA is very excited to have this amazing opportunity to say 'thank you' to all the incredible employees that serve within Downtown Delray Beach. With over 5,000 employees working in DDA district, it is hard to meet them all and to show our gratitude, but with the help of SunTrust Bank and the many other partners that are part of this first ever event, we are hopeful that we can at least attempt to thank most of them," expresses Marjorie Ferrer, Executive Director of the DDA.
As the Most Fun Small-town in America as voted by Rand McNally and the USA Today Best of the Road competition, it is no surprise Downtown Delray Beach would throw a "Fun Party" for those individuals that are responsible for making this town a special Village By the Sea.
EVENT DETAILS:

Date: Wednesday, July 17, 2013
Time: 10am – 4pm Merchant Appreciation Event
Location: SunTrust Bank at 302 E Atlantic Avenue, Delray Beach 33483
All employees, managers, businesses owners within the DDA District (I-95-A1A and
South and North to 4th St)

VIP Reception 5pm – 7pm at SunTrust Bank
More Information: 561-243-1077
About the Downtown Development Authority:
For the past 42 years, the Downtown Development Authority has assisted in successfully branding Delray Beach as the Village by the Sea. The Delray Beach DDA was created by Resolution 9-71, which became law on March 22, 1971, as a dependent district of the City of Delray Beach.
"The DDA Mission is to enhance and stimulate balanced economic growth through position marketing activities that engage Downtown businesses, residents and visitors while creating a clean, safe, physical and experiential place to live, work and invest."
The main areas of involvement in downtown redevelopment include: Marketing and Promotions; Economic Development programs; Place Making within the DDA boundaries. The DDA also works closely with merchants to develop seasonal retail awareness campaigns to generate traffic sales and has created a powerful website http://www.downtowndelraybeach.com and Facebook site that attracts thousands of visits weekly.
About SunTrust
SunTrust Banks, Inc., headquartered in Atlanta, is one of the nation's largest banking organizations, serving a broad range of consumer, commercial, corporate and institutional clients. As of March 31, 2013, SunTrust had total assets of $172.4 billion and total deposits of $129.9 billion. Through its flagship subsidiary, SunTrust Bank, the company operates an extensive branch and ATM network throughout the high-growth Southeast and Mid-Atlantic states and a full array of technology-based, 24-hour delivery channels. The company also serves clients in selected markets nationally. Its primary businesses include deposit, credit, trust and investment services. Through various subsidiaries, the company provides mortgage banking, asset management, securities brokerage, and capital market services. SunTrust's Internet address is suntrust.com.
For More Information Contact:
Laura Simon, Associate Director
Downtown Development Authority
561-243-1077 or 561-573-3672
lsimon(at)downtowndelraybeach(dot)com