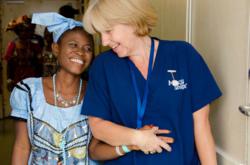 "This new training program is a natural extension of our long-standing partnership and will save and improve the lives of many more women," stated Conrad Person, Director Corporate Contributions, Johnson & Johnson.
Conakry, Guinea (PRWEB) May 23, 2013
Around the world, health organizations are recognizing May 23rd as International Day to End Obstetric Fistula. This year, the date marks not only the 10th anniversary of the UNFPA's Campaign to End Fistula, but also the 10th year of Mercy Ships' involvement in the effort to reduce maternal and infant mortality (Millenium Development Goal #5) through fistula surgeries and education.
Since 2003, Mercy Ships surgeons have performed more than 2,880 procedures to correct obstetric fistula and related issues on 2490 patients within the African ports the hospital ship docks. From 2003 to 2010, Mercy Ships partnered with USAID/EngenderHealth to provide obstetric fistula surgeries and training to African medical professionals performing this procedure. EngenderHealth and Mercy Ships remain strong partners in the fight to end fistula. In 2013, the two organizations joined efforts again to train medical professionals in Guinea.
This year, Mercy Ships will further increase its ability to build capacity in the ports the hospital ship visits through improved healthcare educational opportunities for African professionals on-board ship. In collaboration with Johnson & Johnson and their family of companies, Mercy Ships is beginning the implementation of a new Basic Surgical Skills Course in the Republic of the Congo as part of one of the Healthcare Education programs being offered to this central African nation's government during the Africa Mercy's upcoming port visit to Pointe Noire (Aug 2013 – May 2014). This course is designed for those from many types of general surgical disciplines including VVF and has been run successfully in Ghana and other locations for several years.
"This specific course has been developed by Johnson & Johnson in collaboration with the West African College of Surgeons (WACS) and has proven to be very effective in strengthening efficiency and surgical skills of the developing nation candidates. This is an important part of the services we will be offering healthcare professionals at the request of the Congo Government," stated Don Stephens, President/Founder Mercy Ships.
"Johnson and Johnson and its Ethicon division have long supported the work of Mercy Ships by providing 100% of the sutures used in VVF surgeries. This new training program is a natural extension of our long-standing partnership and will save and improve the lives of many more women," stated Conrad Person, Director Corporate Contributions.
Since 2006, 15 African surgeons and several expat surgeons have also been able to gain surgical experience alongside experts in the field, thereby increasing national capacity to address the issues of fistula management and care. More recently 11 ward nurses and 2 nurse anaesthetists have been up-skilled in VVF (vesico-vaginal fistula) care.
Dr Lauri Romanzi, a reconstructive pelvic surgeon and urogynecologist from New York with 25 years of clinical and academic experience has volunteered in the last three ports on-board the Mercy Ship as a fistula surgeon/trainer. Dr. Romanzi was able to perform just under 50 fistula repairs while training Togolese surgeon, Dr Sewa in both spinal anaesthesia and repair of simple VVF's. In Guinea she worked with a UNFPA-trained Guinean gynecologist, taking care of dozens of women from remote areas of the country with complicated obstetric fistula.
"Some countries, like Togo have recently made caesarean sections free of charge to all women, taking a huge step forward in fistula prevention. The next step is to train more surgeons / medical officers /anaesthetists and improve access to these facilities. In the meantime, Mercy Ships will continue to train doctors like Dr Sewa to help his people," stated Romanzi who was featured recently in the UNFPA's Dispatch newsletter.
Preventable and in most cases, treatable, obstetric fistula is a childbirth injury that leaves women incontinent and occurs when a woman or girl suffers prolonged, obstructed labor without relief from timely medical intervention.
Dr. Steve Arrowsmith, VVF consultant for Mercy Ships and urologist from Michigan states, "VVF is a symptom of poverty and it occurs when health care systems have imploded and services are not provided. Anywhere else in the world, Caesareans save the mother and baby … but if there is no safe way to reach a hospital or no money to pay for a surgery, they suffer. Women are often blamed for the development of fistula. Many are shunned in cultures where community is everything."
Annually the number of maternal deaths worldwide has dropped from more than 543,000 to 287,000, according to a report, "Trends in Maternal Mortality: 1990-2010," released June 2012 by the World Health Organization, the U.N. Population Fund, UNICEF and the World Bank. (1)
According to the UNFPA, motherhood remains a very risky endeavor - every two minutes a woman dies in childbirth. While progress has been made in addressing and preventing the devastating condition of obstetric fistula, significantly more must be done in order to treat the approximately 3.5 million women and girls still living with the debilitating condition, as well as the almost 100,000 who develop it every year. (2)
Watch a video about women who have received hope and healing from obstetric fistula with Mercy Ships here: http://youtu.be/lVYX_G5K_hY
Learn more about Johnson & Johnson's efforts to transform the lives of women with obstetric fistula here: http://www.youtube.com/watch?v=bJ2-RoHR3zs
####
ABOUT: Campaign to End Fistula's 10th Anniversary
As the Campaign to End Fistula approaches its landmark 10th anniversary in 2013 this new International Day is a notable achievement and is and opportunity every May 23rd to create significant awareness and hopefully much needed extra support for the prevention, management and eventual elimination of obstetric fistula. http://www.endfistula.org/public/
ABOUT MERCY SHIPS:
Mercy Ships uses hospital ships to deliver free, world-class health care services, capacity building and sustainable development to those without access in the developing world. Founded in 1978 by Don and Deyon Stephens, Mercy Ships has worked in more than 70 countries providing services valued at more than $1 billion, impacting more than 2.42 million direct beneficiaries. Each year Mercy Ships has more than 1,600 volunteers from over 45 nations. Professionals including surgeons, dentists, nurses, health care trainers, teachers, cooks, seamen, engineers, and agriculturalists donate their time and skills to the effort. Mercy Ships seeks to transform individuals and serve nations one at a time. For more information click on http://www.mercyships.org
For More Information Contact:
Diane Rickard, Mercy Ships Media Relations
us.media (at) mercyships (dot) org
http://www.mercyships.org
Hi-res photos and general Mercy Ships video footage are available upon request, downloadable b-roll about fistulas available here: https://vimeo.com/66744537. Contact us for more resources.
(1) http://www.unfpa.org/public/home/mothers/MMEstimates2012
(2) https://www.unfpa.org/webdav/site/global/shared/factsheets/srh/EN-SRH%20fact%20sheet-Fistula.pdf (Dec 2012)