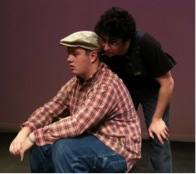 Woodhall School's high school actors have won professional-level awards for their productions. Their dedication and talent make these shows anything but amateur.
Bethlehem, CT (PRWEB) February 11, 2013
The Woodhall School Players are proud to present John Steinbeck's Of Mice and Men in the Abigail J. Woodhall Performing Arts Center on Friday and Saturday, February 22 and 23rd, at 7:30. Admission is free. The theatre is located at 58 Harrison Lane, Bethlehem, CT. Those seeking more information can call 203-266-7788 or email snorelli(at)woodhallschool(dot)org.
Steinbeck's classic follows the lives of two men searching for work in depression-era California. Friends since childhood, George compensates for Lennie's intellectual disability which has an on-going history of causing them trouble. They are held together by the dream of a farm of their own where Lennie can stay out of trouble and raise rabbits. But, as in Robert Burns' inspirational poem, "the best-made schemes of mice and men go often awry."
With a long history of quality theatrical productions, the Woodhall Players have won numerous Halo Awards and delighted audiences with the high quality of their work. These performances are open to the public at no charge, but the intimacy of the Abigail J. Woodhall Theatre suggests early arrival to ensure seating. There is ample free parking with handicapped-accessible entrances.