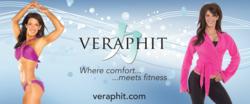 At Bravado our goal is turning people's passion into successful careers, like Bravado's talent Helen Coutts and her latest Fitness Apparel line, Veraphit.
Toronto, Ontario (PRWEB) April 24, 2013
Nancy Di Nino, owner of Bravado Marketing and Management Services,is known for taking people's passions, and turning them into successful careers. This is such the case with her latest rising talent with the release of Fitness Professional Helen Coutts and the launch of her clothing line Veraphit Apparel; Where Comfort meets Fitness.
As a Figure Competitor and Fitness model, Helen Coutts has used her business savvy mindset and athletic platform to cultivate herself into becoming a driven entrepreneur as she unveils the launch of her fitness clothing line, "Veraphit Apparel".
ABOUT VERAPHIT APPAREL
VERAPHIT Apparel is a fitness clothing company inspired by fashion and comfort. Creator and Designer, Helen Coutts is a Figure athlete, and fashion enthusiast.Helen's goal is to design clothes that combine her love of fitness, and comfort while embracing the unique qualities of all women and the demands of their style. She is excited about Veraphit's first line of Hoodie Wraps; a versatile, one size fits all wrap with worn for your fitness and lifestyle needs.
HELENCOUTTS.COM
Helen's passion has allowed her to have a strong influence in the health and fitness communities. Helen is in pursuit of the well sought out Pro Card and a chance to compete on the infamous stages of the IFBB Olympia and Arnold Sports Festival. As a proud mother of two she hopes to educate and inspire other women to achieve their goals through personal & professional career balance Helen invites you to visit her newest website http://www.helencoutts.com .
Nancy Di Nino's Bravado Marketing & Management Services
Bravado Marketing and Management Services specializes in personal and professional career development through engagement brand marketing, event marketing and social media. Visit http://www.bravadomarketingservices.com