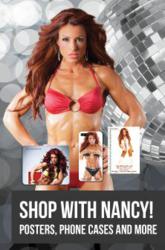 "It is because of the love and support of my fans and friends that I am
able to do what do best - sharing my love for fitness and giving back my
knowledge and inspiration." says Nancy
Toronto, Canada (PRWEB) May 23, 2013
This incredible Media Personality and President of Bravado Marketing and Management Services has now expanded her brand with the official line of Merchandise and Collectable Items! By popular demand, the fans of this International Fitness Celebrity and Cover Model's official brand of Products includes posters, iPhone cases, mouse pads, fitness journals and for those dedicated fans, are Nancy Di Nino's VIP Collectable Packages.
Fitness mogul Nancy Di Nino has always valued her dedicated fans and followers and expanding her product line is a perfect way to give back to answer their wishes.
"It is because of the love and support of my fans and friends that I am able to do what do best - sharing my love for fitness and giving back my knowledge and inspiration," says Nancy.
Catapulting herself to the fitness celebrity status, Nancy Di Nino is a Personal Trainer, using fitness, fashion, beauty, and Bravado all in one dynamic package! Nancy's vast knowledge of nutrition and training allows her to inspire fitness enthusiasts worldwide. She is internationally recognized as a 6x Cover Model and Media Personality. Her talent and infectious personality has allowed her to host various sport celebrity interviews including movie icon and former Governor Arnold Schwarzenegger, credited Olympians, in addition to hosting "Living Beautiful Radio", Bodybuilding.com and Inside Fitness Magazine's Hot and Fit 100 Women.
To purchase Nancy Di Nino's official Brand of products, visit http://nancydinino.com/official-products/.