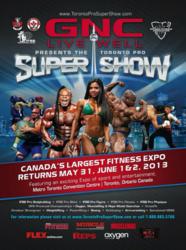 I am honoured to be able to showcase these various athletes at best.
Toronto, Canada (PRWEB) May 07, 2013
Proud, is Fitness Celebrity, Nancy Di Nino, who signed on as the official Media Personality at the 3rd annual Toronto Pro Super show at the Metro Toronto Convention Center May 31 – June 2, 2013 .This year the Toronto Pro Super Show will be 3 days of non-stop excitement and a fitness enthusiast's dream floor! Thousands of attendee's will meet, mingle and take part in Canada's largest health and fitness exposition weekend and Canada's only IFBB Pro Show, not to mention the Oxygen Fitness Model Search. Nancy will be there to bring the latest video coverage by Chalutz Media, showcasing top industry icons, in each of the respective sports of IFBB Professional Bodybuilding, Fitness, Physique, Figure, Bikini, in addition to Strong Man, Olympic Weightlifters, Arm Wrestling, MMA and kickboxing. Celebrity appearances by 8x Mr. Olympia Ronnie Coleman, and 4x Mr. Olympia Jay Cutler, and reigning 2x champion of the Mr. Olympia Phil Heath. This is the event of the year. Visit the amazing exhibitor booths for the newest and latest products, apparel and accessories as well as support all the athletes competing in the many different events.
Nancy Di Nino is a multitalented fitness celebrity, media personality, cover model, figure athlete and professional Salsa dancer, her diversity of talents extends to being a Brand & Marketing Manager which has allowed her to have an active voice and International presence in the media and in the world of Health and Fitness.
She has co-hosted prestigious events including Living Beautiful Radio, Bodybuilding.com, The Olympia, The Toronto Pro Supershow and The Arnold Sports Festival, where she has interviewed various sports celebrities from the world of UFC's MMA to various credited Olympians. Most notably, Nancy had the honour of interviewing the one and only celebrity icon; Movie Star, Bodybuilding Legend and former Governor, Arnold Schwarzenegger while hosting the live webcast production of his annual Arnold Classic Sports Festival Weekend.