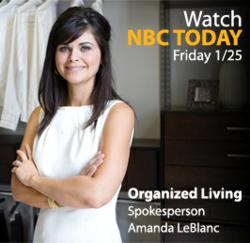 The secret to gaining more time and space is having the right storage system in place.
Cincinnati, OH (PRWEB) January 24, 2013
Organized Living, the local leading manufacturer of home storage and organization products, will receive national coverage on NBC Today, Friday January 25, 2013. The show is slated to air at 10:40 a.m. eastern.
During the segment, Organized Living spokesperson, Amanda LeBlanc, will share simple tips with viewers on how to organize life – even when you're too busy to think about organization. One of her five tips includes advice on how to quadruple space with the award-winning Organized Living freedomRail home storage system.
"Everyone needs more time and space! The secret to gaining more of both is having the right storage system in place," advises LeBlanc. "With freedomRail, you can double, triple or even quadruple space in less than a few hours."
After organizing homes for more than 94 year as SCHULTE, the company rebranded as Organized Living in an effort to strengthen their presence in the growing storage and organization category. The change was effective January 1, 2013.
"Our appearance on NBC Today will help spread the news about the exciting changes and help consumers recognize Organized Living in a fresh, new light," remarked Jennifer Castenson, vice president of marketing at Organized Living. "We help simplify lives through organization and look forward to continuing our mission for another hundred years."
About Amanda LeBlanc
Amanda LeBlanc, is a professional organizer with more than 10 years of experience organizing and 9 years as owner of her own successful organizing firm. Amanda graduated from Louisiana State University with a B.A. in English. Amanda is a member of the Vestavia Hills Chamber of Commerce where she currently serves on the Business Development Committee.
Amanda has been featured on HGTV.com, USAToday.com, Soap Opera Weekly, The Washington Post, Women's World, Birmingham Times, Birmingham Home and Garden, Birmingham Magazine, New Orleans Homes and Lifestyles, and many other regional and national publications.
Amanda's business and leadership skills caught the attention of The Style Network, leading her to star in a reality series based on her life and business. The show, named after her business, The Amandas debuted on January 30, 2012.
About Organized Living
Organized Living brings superior storage and organization to the world through strong products, strong people and strong brand, helping people organize their lives. From the closet to the kitchen to the garage, Organized Living offers high-quality, innovative storage and organization products that make everyday life easier and sells through professionally installing dealers, retailers and online retailers. http://www.OrganizedLiving.com.