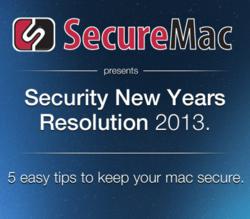 Las Vegas, NV. (PRWEB) January 10, 2013
As everyone is gathering in Las Vegas to see the latest innovations at CES, security solutions is a hot topic and is on everyone's mind. SecureMac.com has released a free guide titled '2013 Security New Years Resolutions' specific to the fast growing number of Apple users for Mac OS X to help secure their Macs.
http://www.securemac.com/security-new-years-resolutions.php
Security researcher Israel Torres breaks the guide down into 5 simple steps to help protect yourself and ensure you are taking the appropriate steps to avoid being an easy target. Mr. Torres wanted to remind Mac users to remind the Mac users to keep you and yours safe and out of the low-hanging fruit category and covers the topics of:

Passwords
Encryption
Backups & Data Removal
Malware protection
It's important to remember to change passwords often, that password or hints you may use on one site that may have been compromised may be used to gain access to other accounts. Users should no longer think that they won't be a target and they have no data to hide with identity theft on the rise. If you can't remember all your different passwords this guide will teach you about utilities available to store your passwords in a secure manner so you no longer have to use sticky notes to store sensitive data.
This guide follows up to SecureMac's recently released Safe Computing guide for Mac OS X Mountain Lion and is a perfect companion and great way to start protecting yourself in a highly connected and fast paced world.