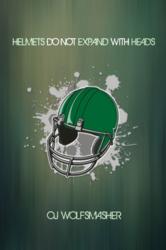 Holmen, Wisconsin (PRWEB) May 30, 2013
In anticipation of the start of NFL training camps and the 2013 Season, Bard and Book Publishing has re-released OJ Wolfsmasher's inaugural work, "Helmets Do Not Expand With Heads".
Have you ever wondered what NFL players were actually thinking between plays? With so many suffering head injuries, it's a shame that helmets don't expand with heads... this would surely help them think more clearly.
In this inaugural work by OJ Wolfsmasher, Mark, an NFL star, psychoanalyzes his predicament, the other players, and the particular play he is executing. Who would have thought that in the time it takes for a football play to reset, an NFL football player could delve into existential self-reflection and analysis of the universal situation?
It is not so hard to imagine if the player involved thinks he's the center of the universe.
Helmets Do Not Expand With Heads is available for download on Smashwords.
Helmets Do Not Expand With Heads is a part of a great sports themed lineup from Bard and Book Publishing. Other sports themed titles are: David Sable's "Invitation to the Game" and also Joseph Shaw's "This One Belongs to the Reds". Purchase and download information can be found on the Bard and Book Publishing website.