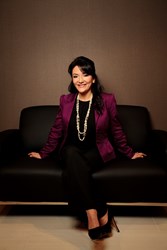 The Provade acquisition was a true 'lean in' moment for me - a moment in which I had to push through my fears and trust my intuition.
Dallas, TX (PRWEB) April 17, 2013
The National Women's History Museum (NWHM) has announced the launch of a new online exhibit, "From Ideas to Independence: A Century of Entrepreneurial Women." The exhibit explores the evolving experience of American women who have started businesses over the last century, along with the key social, cultural and legislative developments of each era. Nina G. Vaca is one of 25 women selected for the exhibit, available for viewing on the NWHM website. Upon being notified of her inclusion in the national exhibit, Vaca remarked, "To be recognized among so many exceptional American business leaders is truly an honor. I am grateful to the National Women's History Museum and extremely humbled by their selection."
In 1996 Vaca founded Dallas-based Pinnacle Technical Resources, an information technology services provider to Fortune 500 and public sector clients, including AT&T, Verizon, Hewlett Packard, and Bank of America. In 2011, Pinnacle acquired Provade, a vendor management system (VMS), becoming the world's largest minority-owned VMS in an industry with over 100 billion dollars of spend. Vaca notes, "The Provade acquisition was a true 'lean in' moment for me - a moment in which I had to push through my fears and trust my intuition. It took a leap of faith that branching out into the software space was the right next step for Pinnacle. Ultimately, it was the right move for the company's long-term growth and profitability and a defining moment in my career trajectory".
The Provade acquisition ultimately proved successful, and Vaca was twice named one of the Top 100 Most Influential People in the staffing industry. Vaca has since appeared on CNBC's Squawk Box, FOX News, and PBS and was also featured in Fast Company Magazine as one of the Top 25 Women Business Builders in America. She is an Ernst & Young Entrepreneur of the Year award recipient for Technology and Communications and is a Director of two publicly traded corporations - Comerica, Inc. and Kohl's Corporation.
Vaca attributes her rich entrepreneurial history to her parents. Born in Ecuador, she was two years old when she immigrated to the U.S. with her family. She credits her parents not only for her entrepreneurial passion but also for her dedication to civic leadership. In 2010, after a 3-year term on its board, the United States Hispanic Chamber of Commerce (USHCC) elected Vaca as only its second female Chairman in its history. Founded in the 1970s, the USHCC actively promotes the economic growth and development of Hispanic entrepreneurs and represents the interests of more than 3 million Hispanic-owned businesses in the United States that contribute over $465 billion to the American economy each year. "As USHCC Chairman, Nina Vaca was both a visionary and a hands-on executive, overseeing a broad range of new initiatives," said Javier Palomarez, USHCC President and CEO. "Her accomplishments included historic structural changes such as opening our Board to Directors to leaders from corporate America and other non-Hispanics." This past November, after the conclusion of her two-year term of office, the USHCC honored Vaca for her significant accomplishments with the unprecedented distinction of Chairman Emeritus for Life.
Vaca has also been recognized in each of the past three years as one of the 101 Most Influential Latinos in America by Latino Leaders Magazine and has made it a top priority to leverage her business and civic achievements into mentorship and encouragement opportunities for Latinas and all women. Currently, she serves as a member of Sheryl Sandberg's "launch team" for Sandberg's Lean In movement. Vaca states, "We must all do our share, utilizing our sphere of influence to serve as role models for others." To connect with today's tech-savvy audience, Vaca just launched her fan page on Facebook to empower and bolster women across the country through a social media outlet. Her page will feature community, civic service and uplifting moments, one of which is the National Women's History Museum honor.
The NWHM online exhibit was produced in partnership with Microsoft Corporation's U.S. Small-and-Midsized Business Group. "In accordance with our mission to educate Americans about the role of women in shaping the nation, we are thrilled to tell the story of the trailblazing women who have overcome challenges and seized new opportunities to bring their business ideas to life," said NWHM President & CEO Joan Wages. Cindy Bates, Vice President of U.S. Small and Mid-Sized Business at Microsoft, added, "Microsoft is proud to help shine a light on the challenges and triumphs that women have faced in starting businesses over the past century."
When Vaca was asked for the key to her success, she replied, "It's not enough to merely want something, you also have to be willing to work hard for it, surround yourself with the right people who believe in your dream, and then motivate them to work hard as hard as you to make that dream a reality."
About Pinnacle Technical Resources
Pinnacle is an award-winning, full-service contingent workforce solutions firm specializing in IT staffing and managed services for a broad variety of Fortune 500 and public sector clients. The firm's services include staff augmentation, supplier management, payrolling, vendor management. In 2011, Pinnacle was ranked the third-fastest-growing staffing firm in the United States by Staffing Industry Analysts.
About Provade
Provade delivers the only enterprise-class Vendor Management System for global workforce spend management. Operating in over 40 countries, Provade VMS helps businesses achieve efficiency and measurable savings in contingent staffing, statement of work and outsourced services spend as a standalone Software as a Service (SaaS) solution or integrated with Enterprise Resource Planning (ERP) systems.
About National Women's History Museum
Founded in 1996, The National Women's History Museum is a nonpartisan, nonprofit educational institution dedicated to preserving, interpreting, and celebrating the diverse historic contributions of women and integrating this rich heritage fully into our nation's history, currently located online at http://www.nwhm.org. Legislation is underway to purchase federally owned land on which to build the National Women's History Museum. The site will border several of the nation's most iconic museums on the National Mall. A coalition of 47 business and professional women's organizations representing eight million members supports NWHM's efforts for a permanent site, along with 50,000 members who have supported the Museum. The women's coalition has publicly advocated for building the Museum near the National Mall. NWHM is a 501(c) (3) organization.