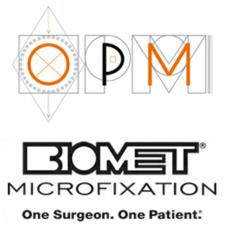 OPM and Biomet performed the first clinical application in the United States earlier this year.
South Windsor, CT (PRWEB) April 08, 2013
Oxford Performance Materials (OPM) and Biomet Microfixation (Biomet) have entered into an exclusive distribution agreement for OPM's OsteoFab™ Patient Specific Cranial Device (OPSCD). Under the terms of the agreement, Biomet will have exclusive global distribution rights to the OPSCD and OsteoFab™ implants for craniomaxillofacial (CMF).
"Following the universally positive response from our initial clients, it is with great satisfaction that we announce this global strategic cooperation with Biomet," said Scott DeFelice, President and CEO of OPM. "We concluded that Biomet was the best partner based upon their existing product mix, global market presence, exceptional focus on Patient-Specific solutions, and clear reputation as a technological leader within the cranial and orthopedic industries." OPM and Biomet performed the first clinical application in the United States earlier this year.
OPM's OsteoFab™ technology combines OXPEKK®-IG polymer (PEKK or polyetherketoneketone), a biocompatible material with properties like bone, with a unique additive manufacturing process to "3D print" products ranging from bespoke devices to patient-specific designs created directly from a CT or MRI scan. OXPEKK®-IG polymer has been used in implant devices for seven years and is supported by extensive biocompatibility and clinical data. OPM has recently completed a multimillion dollar capital project resulting in a state-of-the-art biomedical additive manufacturing facility located in South Windsor, CT.
"We have steadfastly held to our vision that if we could additively produce an implant designed directly from a patient's MRI or CT in a biocompatible structural polymer, we would advance human health and well-being while respecting healthcare market realities," said DeFelice. OPM began producing CMF implants as a contract manufacturer in late 2011 and received FDA clearance for their own OPSCD in February 2013.
About Biomet
Biomet, Inc. (http://www.biomet.com) and its subsidiaries design, manufacture and market products used primarily by musculoskeletal medical specialists in both surgical and non-surgical therapy. Biomet's product portfolio encompasses large joint reconstructive products, including orthopedic joint replacement devices, and bone cements and accessories; sports medicine, extremities and trauma products, including internal and external orthopedic fixation devices; spine and bone healing products, including spine hardware, spinal stimulation devices, and orthobiologics, as well as electrical bone growth stimulators; dental reconstructive products; and other products, including microfixation products and autologous therapies. Headquartered in Warsaw, Indiana, Biomet and its subsidiaries currently distribute products in approximately 90 countries.
About OPM
OPM operates at the intersection of high performance polymers, additive manufacturing technologies, and the creation of structures for the biomedical and aerospace sectors. The firm currently has four operating divisions: Biomedical Devices and Parts, Biomedical Raw Materials, Industrial Parts, and Metrology Sciences. OPM was selected to participate in the National Additive Manufacturing Innovation Institute (NAMII) in 2012. OPM has obtained ISO 13485:2003 and ISO 9001:2008/AS9100C certificates and received FDA clearance in February 2013 for the OsteoFab™ Patient Specific Cranial Device.
For more information, please visit http://www.oxfordpm.com