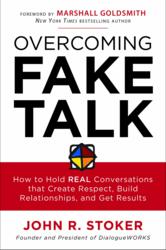 "OVERCOMING FAKE TALK ... is a breakthrough book because it so clearly identifies communication problems that relatively few people understand how to solve." –Stephen M.R. Covey,
Bestselling author of The Speed of Trust and Smart Trust
New York, NY and Salt Lake City, UT (PRWEB) May 21, 2013
"OVERCOMING FAKE TALK should be the mantra of anyone who's determined to get great results, consistently. It is a breakthrough book because it so clearly identifies communication problems that relatively few people understand how to solve. It offers the principles, practices, and skills so necessary for honest, trust-building conversation. If you're truly interested in respect, relationships, and results, this book is for you."
–Stephen M.R. Covey, Bestselling author of The Speed of Trust and Smart Trust
Why do you fail to get the results you desire in your most important conversations?
Why do you continue to have the same conversations over and over, without resolving the issues?
Why do you avoid, at all costs, having "the talk" when it is vital to an important relationship, at work, at home, or at school?
Is it because you're not engaging in effective communication?
You may be having COUNTERFEIT CONVERSATIONS, engaging in FAKE TALK where it looks like everyone is sincerely interested in communicating, but there is not a genuine desire to connect in a respectful way that builds relationships and gets the results everyone desires.
In the new book, OVERCOMING FAKE TALK: How to Hold REAL Conversations That Create Respect, Build Relationships, and Get Results (McGraw-Hill Professional; May, 2013; PB, $20.00), business communication expert, John R. Stoker, provides executives, managers, spouses and parents with the communication principles, processes and skills needed to ensure that every conversation achieves the most optimal result.
John Stoker also shows OVERCOMING FAKE TALK readers how to have a positive exchange with others in a way that fosters collaboration, increases mutual respect, improves organizational performance and achieves results – even when conversations are sensitive, emotional or confrontational.
"In order to have meaningful conversations, you must first start with YOU, the only person over whom you have control," advises John Stoker, author, OVERCOMING FAKE TALK, and founder and CEO of DialogueWORKS, a training and consulting firm whose clients have included, AT&T, Turner Broadcasting, Lockheed Martin, Comcast, Honeywell and other Fortune 100 and 500 organizations. "We fail to create lasting, meaningful relationships because we lack an understanding of the communications principles, processes and skills needed to lead us in conversations, which are needed to engage others in communication that creates understanding, respect, security and mutual trust."
OVERCOMING FAKE TALK offers skill building exercises that will help guide your thinking, as well as your verbal and nonverbal language, helping you learn exactly how to create what is essential in any effective conversation. Additionally, John Stoker offers a simple communication skills model (REAL) that is easy to apply, even when the stakes are high, or when in heated, challenging, and difficult conversations:

Recognize and Suspend: Recognize that your thoughts affect your behavior. If the conversation is not working, do something different by suspending your thoughts, purpose or agenda and listen and consider the views of others. This requires you be both a participant and an observer in the conversation.
Express Your Intention: Think and share in terms of "we" rather than "me." Passionate, assertive, or aggressive, behavior turns others off. Express yourself in a way that invites cooperation and contribution rather than confrontation and rejection. Your expression reflects your intention.
Ask to Reveal: Ask questions to understand and explore others' viewpoints, which increase your own understanding, creates respect, and improves engagement. The more discovery that occurs, the broader your perspective and the greater your learning. Answers are revealed in the asking.
Listen and Attend to Connect: Don't just listen to the words of a message; be aware of what isn't being said. Listen with your ears, but also attend with your eyes, heart, intuition, and body. Listen past what you think you know.
"Most people aren't mind readers, so they rely on your body language, which reveals whether or not you are truly present in the conversation. They can instantly read whether or not you sincerely and genuinely respect their opinion," said John Stoker.
OVERCOMING FAKE TALK offers proven advice, insights, actionable skills and processes that aid in understanding your own, as well as others communication styles. John Stoker teaches you how to alleviate your ego from the conversation and get to the very heart of the issue so that resolution can occur in respectful manner that not only solves the issue at hand, but strengthens the relationship.
Additionally, OVERCOMING FAKE TALK includes dozens of anecdotes, examples, and sample dialogue and is a prescriptive guide to forever changing the way you think about real communication. If readers apply the concepts in this book, they will transform their conversations into those which are specific, direct, open, insightful, solution-oriented, respectful, accountability-based, as well as encouraging and complimentary. But, more importantly, they will transform their relationships.
Take a free self-assessment: Assess your ability to hold REAL CONVERSATIONS that achieve results, at http://www.dialogueworks.com/self_assessment/.
ABOUT THE AUTHOR: John Stoker is the author of OVERCOMING FAKE TALK: How to Hold REAL Conversations That Create Respect, Build Relationships, and Get Results. He is the Founder and President of DialogueWORKS and has worked extensively with the Fortune 100 and 500, helping to increase their capacity, enhance effectiveness and improve business results. He has more than 20 years in experience as a speaker, facilitator, and coach with expertise in designing strategic change and in creating and implementing training curriculum that supports company-wide improvement initiatives. He focuses on the development of interpersonal skills that leaders must have in order to lead. He is experienced in the fields of leadership, change management, dialogue, critical thinking, communication, conflict resolution, and emotional intelligence. Clients have included AT&T, Turner Broadcasting, Lockheed Martin, Comcast, Cox Communications, Banner Health, Lockheed Martin, Eastman-Kodak, Regeneron Pharmaceuticals, AT&T, and Honeywell.
OVERCOMING FAKE TALK: How to Hold REAL Conversations that Create Respect, Build Relationships, and Get Results, by John Stoker. May, 2013; PB, $20.00. ISBN 0-07-1815791; MHID 978-0-07-181579-6.
For interviews, excerpts, artwork, or more information, contact:
3D PUBLIC RELATIONS GROUP
Press Contacts:
Diane Lefrandt (801)-357-9159
diane(at)3dprgroup(dot)com
or
Debra Lund (801)-244-4474
debra(at)3dprgroup(dot)com
###