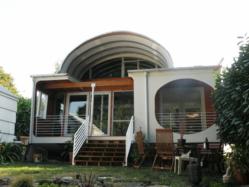 Portland has a fine tradition of modern houses... The 2013 Modern Home Tour promises to be another fulfilling day of local exploration of the area's finest architects.
Portland, OR (PRWEB) February 14, 2013
As part of the spring 2013 tour, Modern Home Tours is returning to Portland on Saturday, March 9th. The 2013 Portland Modern Home Tour gives residents the opportunity to explore some of the coolest examples of modern architecture and interior design, right in their own town.
The self-guided driving tour will feature six to ten architecturally progressive and contemporary homes that exemplify modern living in the Portland area. See first hand how homes incorporate the principles of modernist thinking with cutting edge building science and sustainable techniques when craft, science, and talent all come together to create a completely modern dwelling.
The 2012 Portland Modern Home Tour featured local architects such as Emily Réfi, Ellen Fortin + Michael Tingley, Design for Occupancy, and William Kaven, and included notable local masterpieces such as Treehouse, Harpoon House, Interchange House, and The Park Box.
Local architecture expert Brian Libby, founder of portlandarchitecture.com, has signed on as Tour Consultant for the 2013 Portland Modern Home Tour.
"Portland has a fine tradition of modern houses," says Libby. "The Northwest regional modern style has long been known for not only its clean lines, but the use of natural materials and wood, dating back to masters of the early and mid-20th century like Pietro Belluschi and John Yeon. The 2013 Modern Home Tour promises to be another fulfilling day of local exploration of the area's finest architects."
Some of the homes joining the tour include*:

The famous "Eyebrow House" in Mt. Tabor, featured in an episode of "Portlandia" and in ReadyMade Magazine and Portland Monthly, designed by Edgar Papazian.
A historic 1949 home, also in the West Hills, designed by John Dukehart and renovated by its current owner, wood artisan, Patrick O'Neil.
A house by perennial award-winning Portland firm Works Partnership based on a prototype design the firm hopes to begin building on a wider scale.
A luxury condo in Southeast Portland's Clinton neighborhood by another acclaimed local firm, Holst Architecture, sumptuous in its juxtaposition of glass, mahogany and weathered steel.
A historic 1966 home in Portland's West Hills that epitomizes mid-20th century Northwest modernism, clean-lined with an elegant simplicity yet teeming with natural wood.
A house by Portland's Departure Design that is one of the city's first built to rigid Passiv Haus standards for energy efficiency.
A unit in the award-winning Lair Condominiums in Portland's historic Lair Hill neighborhood just south of downtown, designed by renowned Portland architect Rick Potestio.
A unit in the North House condominium on Portland's burgeoning North Vancouver Avenue, featured in Dwell magazine.
Participating homes will open their doors for viewing from 11:00 AM – 5:00 PM on Saturday, March 9, in and around Portland, Oregon. Tickets are $30 in advance; $40 on the day of the tour, available at designated locations. All are invited. Kids under 12 are FREE. For more details and a current list of homes, please visit http://portland.modernhometours.com.
*Homes listed are in the process of joining the tour. Final line-up is subject to change.
About Modern Home Tours, LLC: Based in Austin, Texas, Modern Home Tours, LLC was founded by partners Matt Swinney & James Leasure to introduce Modern architecture and living to people across the nation. Through fun and informative tours in dozens of cities across the USA and Canada, we invite people into some of the most exciting examples of Modern architecture and design in the nation. With carefully selected architects, neighborhoods and architecture, our home tours are unlike anything you've ever seen. Not only will you learn about the cutting edge of home design while on our tours, but you might even get an idea or two for your next home project.