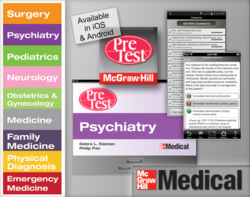 "The PreTest medical app enables medical students and professionals to integrate test prep seamlessly into their busy lives, putting them squarely on the path to academic and professional success."
Annapolis, MD (PRWEB) June 12, 2013
More and more, learning happens on the go. Students, including those in the medical field, are no longer willing to be tethered to a desk or PC. They are demanding study tools that are not only portable but customizable and easy to use. That's where McGraw-Hill Professional's PreTest Self Assessment and Review comes in. The app's unique combination of innovative technology with highly relevant content makes it an indispensable learning tool. Previously available only for Apple devices, PreTest is now also available for the Android platform.
With questions and detailed answers covering major topics included in the USMLE and medical board exams, the PreTest app has it all. Based on material from the latest print edition, this free starter pack app includes 25 questions in each of nine major topics and is expandable to hundreds more through in-app purchases. Current topics include Medicine, Psychiatry, Surgery, Neurology, Family Medicine, Emergency Medicine, Obstetrics & Gynecology, Physical Diagnosis, and, recently added, Neuroscience, with more in the pipeline.
"Our mobile apps allow students to control the pace of their learning and provide customizable and portable alternatives to traditional test prep," notes Kevin Reville, gWhiz founder. "The PreTest medical app enables medical students and professionals to integrate test prep seamlessly into their busy lives, putting them squarely on the path to academic and professional success."
As any medical student knows, success is the result of a considerable amount of hard work and dedication. With PreTest, users are able to optimize their study time, accessing a mountain of information wherever and whenever they can. So, whether they are at home, in the classroom, or on rotations, the material is right at their fingertips.
ABOUT gWhiz
Launched in 2008, gWhiz has established itself as a leading provider of engaging mobile educational applications. The company is focused on developing innovative educational software to foster a lifetime of learning for professionals and students of all ages. With hundreds of titles currently available on many platforms including the Apple's iOS devices, Android (including the Kindle Fire and Nook), BlackBerry, and Netbooks, the company's depth of experience is unmatched in the industry. gWhiz believes that contemporary mobile technology provides a unique opportunity to offer powerful, entertaining, on-the-go learning and student collaboration tools.