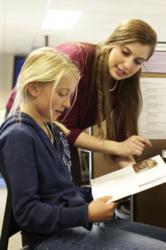 The earlier you catch a problem, the easier it is to remediate.
Herndon, VA (PRWEB) April 25, 2013
Is your child a delayed reader? When should you be worried? In an article in Education.com, Dr. Kristen Kinney-Haines, director of primary literacy at K12, the largest provider of technology-powered individualized learning, said, "If you have a child who isn't reading by the middle of first grade, you should take action." She added, "The earlier you catch a problem, the easier it is to remediate."
According to K12, there are several things parents can do to encourage literacy:

Set a good example: If parents spend much of their time watching television, children are likely to emulate that behavior. On the flip side, children who see their parents routinely reading each day are likely to want to read, too. Taking family outings to the library and taking advantage of reading apps are fun and often free ways to get the reading rolling.
Be involved in the reading process: While reading in the same room as your child is good, reading to your children and asking them questions about the book is even better. Spending this quality one-to-one time with your child can go a long way toward increasing reading skills and the overall enjoyment of reading.
Explore phonics programs: By using phonics, a reading method involving letter recognition, parents can help prepare their children to become independent readers. K¹² PhonicsWorks™ is designed to help children:
Recognize the relationship between sounds and letters
Blend sounds represented by letters into words
Read and spell longer, unfamiliar words by breaking them into syllables
Read "sight words"—frequently used words such as "said" or "was," some of which do not follow the spelling patterns that have been taught
Investigate literacy programs: Many reading remediation programs are available through your child's school or an outside source. For example,MARK12 Reading is a course available to full-time K12 students in third to fifth grade who are struggling readers. Dr. Kinney-Haines, who formerly taught kindergarten and first grade in Upstate New York and K–3 Special Education in Northern Virginia, is responsible for the creation and development of MARK12 Reading, K12's first remedial product, as well as the second generation of K–2 Language Arts and Phonics.
Dr. Kinney-Haines holds a Bachelor of Science in education from the State University of New York at Geneseo, a master's degree in reading from Nazareth College, and a Doctorate of Education in curriculum and instruction from The George Washington University.
"MARK12 Reading gives students who are reading two or more grades below grade level the opportunity to master missed concepts in a way that accelerates them through the remediation process by incorporating adaptivity and online assessments," added Dr. Margaret Jorgensen, chief academic officer at K12. The course features new graphics, learning tools, and games, plus adaptive activities designed to help struggling students master concepts and skills before moving on.
Struggling Reader Turns Published Author at Age 16
Sometimes struggling readers are able to work through challenges and emerge with amazing accomplishments. For example, Austin Weaver struggled with reading and writing due to symptoms of dyslexia. Austin was a K12 Colorado Virtual Academy (COVA) student for nine years, an approach his parents say worked well for an auspicious child with a learning disability. Their perseverance paid off. At age 13, his mother found him furiously scribbling away. When asked what he was doing, he simply said, "I'm writing a book." Having hit the national market, Austin has reached one of his many goals, he is a published author at age sixteen. A Coconut Named Bob is a heartwarming story of a young boy who befriends a coconut and names him Bob. It is quickly becoming a bestselling children's book.
About K12 Inc.
K12 Inc. (NYSE: LRN) is leading the transformation to individualized learning as the nation's foremost provider of technology-powered online solutions for students in pre-kindergarten through high school. K12 has worked with more than 2,000 school districts and has delivered more than 4 million courses over the past decade. K12 provides curricula, academic services, and learning solutions to public schools and districts, traditional classrooms, blended school programs, and families. K12 's curriculum is rooted in decades of research combined with 21st-century technology by cognitive scientists, interactive designers, and teachers. K12 's portfolio of more than 550 unique courses and titles — the most extensive in the technology-based education industry — covers every core subject and four academic levels for high school, including Honors and AP. K12 offers credit recovery courses, career-building electives, remediation support, six world languages, and a deep STEM offering. The K12 Program is offered through K12 partner public schools in more than two-thirds of the states and the District of Columbia, and through private schools serving students in all 50 states and 85 countries. More information can be found at K12.com.