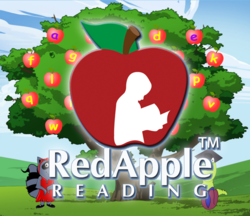 The ABC Tree's videos and animations are a big hit with users.
Beaumont, CA (PRWEB) May 17, 2013
True to their ambitions announced late last month to expand program offerings, Red Apple Reading (RAR) is rolling into May with an array of expansions to aid youngsters, parents, and teachers to get the most out of the online reading tutorial program. As Tammy Bennecke, founder and president of Red Apple Reading, announced in April, RAR is heading into summer with plans to encourage youngsters to continue accessing the program, learning vital skills during a time of year when educational learning can often take a break.
Freshly completed is a makeover to the program's Level A release, complete with hand-drawn backgrounds by Dereza Art Studio, the company responsible for the new look and feel of the Level B program coming out late this summer. Dereza is breathing new life into the program's first level, a success that will be parlayed into RAR's Level B in the coming months.
The Level A program's "ABC Tree," a place for youngsters to review letter names and sounds before learning phonics and sight words, is branching out as well. The ABC Tree, as with the rest of Red Apple Reading's program, engages children while also teaching them vital literacy skills specialized to their individual level of learning. The ABC Tree's videos and animations are a big hit with users.
"The ABC videos were fun to create," Bennecke said. "They go beyond most alphabet videos by teaching different ways a child might see or hear a letter. For example, the Letter A video teaches the way a lowercase letter looks in most printed text-- and how it's different from the 'ball and stick' letter most commonly taught. Also, each of the vowel videos teaches both the short and long sounds of the letter."
Now, younger child users can grab a hold of the ABC Tree's offerings, as RAR has tailored this facet of the program to allow for users as young as four to gain comprehension of letter names and sounds. They also plan on releasing a pre-K program by early next year that will be well-suited for 3-to-5-year-olds, including not only alphabet recognition, but also phonemic awareness, sequencing, and memory activities – all vital pre-reading skills.
Bennecke has also noticed how many parents, tutors, and teachers enjoy the tracking abilities of Red Apple Reading. As a result, a monitoring section for the ABC Tree has been included on a child's Detailed Progress Report, allowing an adult to monitor the time spent in that section, letters reviewed, and letters completed.
As with many upgrades and additions to the Red Apple Reading program, Bennecke says that growing the ABC Tree came from user feedback.
"Children are enjoying the fun, animated learning videos that teach each alphabet letter, uppercase and lowercase, the sound or sounds it makes, and examples of words that begin with the letter," she said. "We're now in the process of tailoring the activities in the ABC Tree to be more in line with the time a very young child would want to spend playing them."
For a sneak peak of the alphabet videos, follow this link: http://youtu.be/ntRrtCyHVJo.
About Red Apple Reading:
Red Apple Reading was founded in 2011 by educator Tammy Bennecke. With the aim of fulfilling their motto of being "a small company with a big heart," Red Apple Reading is in the process of developing a full range of pre-kindergarten through third grade reading products. Further goals include upper elementary/middle school reading adventure games, available both online and as mobile apps. Red Apple Reading also plans to expand into other subject areas as the company's growth continues. Find out more about Red Apple Reading at http://www.RedAppleReading.com.