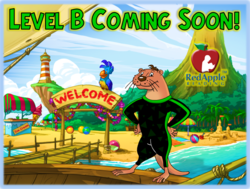 I'm so excited to help add more content and engagement to this very important program!
Beaumont, CA (PRWEB) May 30, 2013
While the final bells may be ringing for schools across the country, Tammy Bennecke, president and founder of Red Apple Reading (RAR), has been hard at work, fine-tuning a variety of facets of her online reading literacy learning program. In the past months, Bennecke has turned to her teammates at RAR, as well as talented individuals in the fields of graphic and program design, to make RAR even more multi-faceted, engaging, and useful for young students, parents, teachers, and tutors hoping to fine tune vital literacy skills in the early years of reading development.
Bennecke's latest addition comes in the form of 15 stories for Red Apple Reading's "Level B," penned by famed children's author, Joanna Robinson, Ph.D. Robinson's credentials include a career path blending writing and teaching, as well as work for such esteemed youth educational outlets as Sesame Workshop, Nick Jr., and Leap Frog Learning. Robinson's stories were completed this month, encompassing fictional pieces about the adventures of Level B's sea creature characters, and some non-fiction pieces as well. They will be illustrated and available when Level B releases, scheduled for September 2013.
While Bennecke is impressed by Robinson's past career work, she notes that the true reasons she wanted to have Robinson penning the stories for Level B stem from the author's knack to engage children with her lively and entertaining stories.
"Everyone at Red Apple Reading is so excited to see the stories Joanna [Robinson] has written," Bennecke said. "She has genuine creativity, and that true 'voice' that speaks to children, drawing them in. Also, her work with other technology-based companies, such as Leap Frog, is proof positive that Joanna knows how to embrace new technology in her work."
The excitement is returned in full force from Robinson, who is excited to see her work go from pen to paper—and ultimately to the screens of Red Apple Reading students.
"Red Apple Reading is a well-structured program for young children who want to learn about language, build reading skills, and engage with reading in a fun way," Robinson said. "I'm so excited to help add more content and engagement to this very important program!"
Red Apple Reading was founded in 2011 by educator Tammy Bennecke. With the aim of fulfilling their motto of being "a small company with a big heart," Red Apple Reading is in the process of developing a full range of pre-kindergarten through third grade reading products. Further goals include upper elementary/middle school reading adventure games, available both online and as mobile apps. Red Apple Reading also plans to expand into other subject areas as the company's growth continues. Find out more about Red Apple Reading at http://www.RedAppleReading.com.