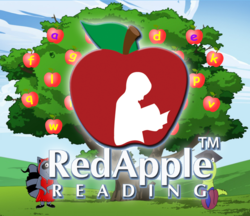 We want to reach as many parents as we can—and make Red Apple Reading a cost-effective option for everyone.
Beaumont, CA (PRWEB) June 26, 2013
With summer in full swing, Red Apple Reading (RAR), an online reading program to help young readers learn and retain valuable literacy skills, has combined the fruits of their labor with another successful online, fruit-themed site. Last week, RAR concluded an eight-day initiative with Plum District, a daily deal site focused on offerings for mom and families.
A promotion on the Plum District site, as well as through their subscriber-based flash e-mails, was well received by families obtaining a discount on the Red Apple Reading program. Plum District also celebrated their 3rd anniversary during the week, allowing subscribers to get an additional 30 percent off the special $39 purchase price for that day only. The buy enabled access to a parent "Premium Lifetime" membership with three children accounts (a $169 value). It also includes access to RAR's "Level B" and apps scheduled for release this fall, and all future offerings on the website.
Tammy Bennecke, president and founder of RAR, is excited to now be partnering with Plum District, and likes their mom-friendly approach to discounts and offers.
"What first had me interested in working with Plum District was their tagline: For Moms. By Moms." Bennecke said. "I'm a mom, and I want to get the word out to other moms (and dads, too!) about Red Apple Reading. It seemed like a great fit."
The current RAR/Plum District collaboration ran in conjunction with Plum District's third anniversary, and a series of updates to content and offerings on the Red Apple Reading website. It also helps Bennecke continue her mission to get Red Apple Reading into the hands—and households—of as many young readers as she can this summer, by making RAR accessible and affordable.
"We want to reach as many parents as we can—and make Red Apple Reading a cost-effective option for everyone," she said.
A list of current promotions for Red Apple Reading can be found on their site at: http://www.redapplereading.com/promotions.
About Red Apple Reading: Red Apple Reading was founded in 2011 by educator Tammy Bennecke. With the aim of fulfilling their motto of being "a small company with a big heart," Red Apple Reading is in the process of developing a full range of pre-kindergarten through third grade reading products, available both online and as mobile apps. Further goals include upper elementary/middle school reading adventure games. Red Apple Reading also plans to expand into other subject areas as the company's growth continues. Find out more about Red Apple Reading at http://www.RedAppleReading.com.