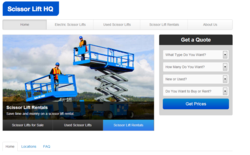 (PRWEB) May 21, 2013
Purchasing a new or used scissor lift is a large expenditure for the typical warehouse or retailer, and Scissorlifthq.com has launched a guide to help make the process easier. Many business owners will write off renting a scissor lift as a possible option until they realize that they may be out of pocket over $5,000 for a typical used machine, and those with very old machines can be shocked at the replacement costs for newer lifts. Scissorlifthq.com helps these business owners and purchasers get up to speed fast on options for financing, scissor lift size ranges, types and whole host of other metrics that help the decision making process.
As with any large equipment purchase, it pays to do your homework when researching a scissor lift rental or purchase. Scissorlifthq.com has given small business owners a head start by compiling data in major metros throughout the country to give price ranges for purchasers. The Scissor Lift HQ guide also helps buyers evaluate whether the upfront savings that can be found by buying older used scissor lifts over seven years old is worth the risk. A closer look reveals that savings can often be negated by a combination of higher maintenance costs and replacement parts. The guide also provides estimates on tough to determine costs, like evaluating fuel charges for new vs. older scissor lifts (Older scissor lifts are less fuel efficient).
About Scissor Lift HQ
Scissorlifthq.com is the first destination for all things scissor lifts, with a goal for making the purchasing process easier. Most people only purchase or rent a scissor lift every couple of years so they are unable to build up knowledge of the industry that will help them make the right choices or understand all available options. Scissor Lift HQ fills in gaps in knowledge to connect people with the right equipment every time.