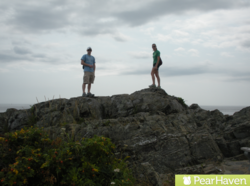 The results showed a whole host of ways that participants described how their partner makes them feel appreciated and loved, with simply saying "thank you" and thoughtful gestures being prized most highly."
Austin, Texas (PRWEB) February 26, 2013
PearHaven, a website for promoting and maintaining couples' relationships with date ideas and relationship advice, reports on seven tips based on scientific research that may help keep couples together through difficult economic or emotional hardships.
1. Simple acts of kindness
Interim findings have been released from a major two-year study called Enduring Love? Couple Relationships in the 21st Century." Authors Dr Jacqui Gabb, Dr Janet Fink and Dr Martina Klett-Davies said,"The results showed a whole host of ways that participants described how their partner makes them feel appreciated and loved, with simply saying 'thank you' and thoughtful gestures being prized most highly." Science Daily: Survey at Open University (2013, February 14).
2. Sharing everyday experiences, values
The Enduring Love study by Gabb, Fink and Klett-Davies "...also revealed how sharing values, a faith, beliefs or interests with a partner is very highly regarded and participants expressed disappointment when the everyday experiences of life could not be shared.'
"Holding things in common was seen by participants as a key 'connector' in the couple relationship," said Dr Janet Fink, co-lead researcher on the Enduring Love? project.
3. Giving partners credit when they try to improve
Northwestern University study "A secret to building a happy relationship is to embrace the idea that your partner can change, to give him or her credit for making these types of efforts and to resist blaming him or her for not trying hard enough all of the time,"said Daniel C. Molden, senior author of the study and an associate professor of psychology at Northwestern.
This study was published in the Personality and Social Psychology Bulletin, January 2012 and was also conducted by Michael Harris Bond, professor of psychology at Polytechnic University of Hong Kong.
4. Get enough sleep
"Poor Sleep Can Make Couples Take Each Other For Granted." A new study examining how sleep habits can influence expressions of gratitude between romantic partners has been conducted by a group of researchers from the University of California Berkeley. Their findings were presented at the annual meeting of the Society for Personality and Social Psychologists in New Orleans. Kelly Fitzgerald. Medical News Today. MediLexicon, Intl., 23 Jan. 2013. Web; 21 Feb. 2013. at medicalnewstoday.com.
Amie Gordon, a UC Berkeley psychologist and lead investigator of the study said, "Poor sleep may make us more selfish as we prioritize our own needs over our partner's."
5. Take time for a getaway together
"Valentine's Survey Finds Traveling Together Strengthens Relationships.
Couples who take regular trips report increased satisfaction and romance." New research commissioned by the U.S. Travel Association, found at TravelEffect.com, reports "Couples who take time to vacation alone together at least once each year report happier, healthier relationships overall compared to those who do not travel as couples," says Pam Loeb, principal of Edge Research, who conducted the telephone survey of 1,100 adults.
6. Recognize media or TV's influence, portraying unrealistic couple relationships
" When TV and marriage meet: TV's negative impact on romantic relationships." ScienceDaily. Taylor & Francis (2012, September 18).Retrieved February 21, 2013. A study from Albion College, Dr. Jeremy Osborn, the article's author, published in the September 2012 issue of Mass Communication and Society," found that people who believe the unrealistic portrayals on TV are actually less committed to their spouses and think their alternatives to their spouse are relatively attractive."
7.A person should find life satisfaction first and this will usually predict happier marriages
"What Kinds of Happy Couples Eventually Get Divorced?"The first study was carried out at UCLA, and the second study at the University of Denver. Both were published in the Journal of Family Psychology. Alice G. Walton, PhD reports, "In fact, having more life satisfaction increased one's odds for a happy marriage, and improving one's marital satisfaction was linked to greater happiness in life. The take-home message of this study is that life satisfaction is not only a result of a happy marriage, but, in large degree, it can actually help predict it."
PearHaven helps to inspire and promote couples' long-term romantic relationships. Using different features to keep couples romantically involved with each other, the website suggests and maps out the best date ideas. The website also offers a fun game-like design called gamification where couples are rewarded achievement badges for their date experiences such as going on dates in different cities or connecting with other couples.
The website fosters strong relationships through the use of technology. PearHaven members share their favorite date ideas, record their memories, post photos and find the best date ideas or relationship advice. PearHaven encourages couples to remember those positive times in a relationship, thus strengthening couples' relationships.
PearHaven's free app for the iPhone and iPad offers date ideas on-the-go. Members can also use the app to post their date experiences and photos while they are out and about. PearHaven's blog features relationship advice, dating ideas and fun trivia.
About PearHaven
PearHaven is not a dating site.
It is a social website with free sign-ups for people of all ages who are dating, engaged, in a long-term relationship or married. Members can record their dating experiences, connect with others, post photos and earn achievement badges for trying the latest date ideas. PearHaven.com suggests the best date ideas and maps the locations.The website was founded by David Lackey, a student at Princeton University. PearHaven has a free iPhone and iPad App at the App Store to record date ideas and photos on-the-go.