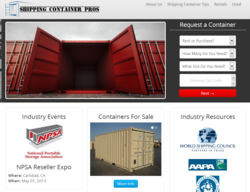 (PRWEB) April 15, 2013
Many industry professionals already know Shippingcontainerpros.com is a resource for finding used shipping containers and relevant industry news. Today they have added a guide to help the general consumer or business who can use refurbished shipping container for storage at their location. From choosing the right size container to comparing price ranges, Shipping Container Pros has everything to help people decide the storage option that is best for them.
Comparing shipping container rental, sales and lease options is critical as the costs can vary dramatically. When a business needs additional storage multiple times per year for example, Shipping Container Pros can help then with a cost benefit analysis on when it makes sense to buy rather than renting. Multiple rentals per year can add up when delivery fees and time spent searching is taken into consideration. A well maintained and refurbished shipping container can last for decades and can be a great long term investment for those businesses who can afford the upfront costs.
Another new feature consumers can now find on Shippingcontainerpros.com is the ability to browse live listings for used shipping containers for sale. Complete with images, container history if applicable, and of course price, these listings will give shoppers a good understanding of their options available before they even pick up the phone.
About Shipping Container Pros
Shipping Container Pros helps businesses save money and avoid the major pitfalls of purchasing used shipping containers throughout the United States. Shippingcontainerpros.com is a place for industry professionals to find both deals on shipping containers for sale and also for relevant industry information and events.