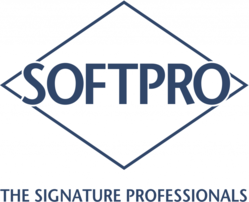 The cloud-based SignDoc Mobile, Pro Version offers enhanced features that make it easy for individuals to do business with their clients.
Westlake Village, CA (PRWEB) April 25, 2013
SOFTPRO announced today that iPad users can upgrade to SignDoc Mobile, Pro Version, a cloud-based electronic signature software now available as an in-app purchase in the Apple App Store. The demo version of SignDoc Mobile is still available. SignDoc Mobile, Pro Version is available on a subscription basis for a single user, unlimited documents and unlimited signatures. It will be launched on the Samsung Apps, Google Play, and Windows 8 App Store later in Q2 2013. SignDoc Mobile for the enterprise continues to be available as part of an organization's SignDoc Web implementation.
"The interest in the SignDoc Mobile demo released in March 2012 was overwhelming," explains said Rodney G. Vesling, President and General Manager, SOFTPRO N.A., Inc. "This cloud offering with enhanced features makes it easy for individuals to do business with their clients. You simply download the electronic signature application and then you are ready to have clients esign estimates, orders, contracts, and disclosures electronically."
The SignDoc Mobile subscription offers the following additional functionality over the free, demo version:

The SOFTPRO watermark no longer appears on the document
Users can choose to have their name printed under the electronic signature
Users can have the date and time stamp displayed below the electronic signature
SignDoc Mobile, Pro Version provides users with the ability to complete, review, esign and then email or archive the esigned documents. Once the document is signed it resides with the signer and not on the SignDoc Mobile server. Like all other SOFTPRO esignature software solutions, SignDoc Mobile leverages the ISO digital signature standard which means only Adobe Reader is required to view and validate the esignatures.
In addition to esigning personal documents, SignDoc Mobile can also be used by professionals. Real estate agents, healthcare professionals, small business owners and independent contractors can all benefit from an efficient, paperless, and secure esigning application.
SignDoc Mobile, Pro Version, is available on a subscription basis: 1 month: $5.99; 3 months: $16.99; 6 months: $29.99; 12 months: $49.99
About SOFTPRO
Founded in 1983, SOFTPRO is the most experienced signature management company. The company's SignDoc Esignature Software supports handwritten esignatures captured with any device including tablets and smartphones as well as offers a secure click-to-sign esignature solution. SOFTPRO solutions are used in 50 countries where many of the world's largest financial services organizations trust our software.