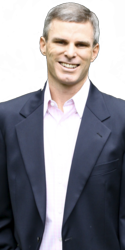 "Scott delivered an excellent presentation...in a way that people can connect with and understand." - Carol Swan, HomeStretch
Atlanta, GA (PRWEB) June 27, 2013
HomeStretch, a nonprofit organization that supports homeless working families in the Atlanta, Georgia community to become self-reliant with a stable home environment invited nationally recognized financial educator, author and Dave Ramsey certified coach Scott Noble to present to their families and community supporters.
Scott Noble works with the financially successful families through his registered trademark process, Wealth With No Regrets, yet has a passion to serve families at all income and net worth levels. Noble delivered a well-received presentation that was tailored to the unique needs of the audience based on his personal experience of building wealth from scratch the "old-fashioned" way - earn, give, save, and spend wisely only where it matters.
The engaging presentation provided valuable tips and practical, understandable advice for successful budgeting, saving, and overall money management - covering all the core aspects of reaching financial security and self-reliance.
"Scott delivered an excellent presentation to our families and provided them with some great practical information. It's clear that he really cares about people and cares about helping them in this area of their life. Talking about such an important area of life in a way that people can connect with and understand is invaluable! It fits so well with our mission," said Carol Swan, HomeStretch Program Director.
Real-world practical advice is the needed information for bridging the gap between where people are living with their money and where they want to be living with their money. There is too much technical lingo in the financial services industry which keeps people at all income levels from achieving the kind of financial independence they deserve.
Scott Noble, a registered CPA, has devoted much of his time to breaking down these barriers for the low income, high income and even high net worth individuals so people can live the life they dream and deserve to live.
For more information about Scott Noble, his presentation, or his Wealth With No Regrets planning process, call 678-278-9632, email scott(at)WealthWithNoRegrets(dot)com, or visit http://www.wealthwithnoregrets.com.
About Scott Noble: Scott Noble, CPA, PFS, nationally recognized speaker, financial educator, continuing education instructor, and presents to peers in the financial industry. He is the co-creator of, The Wealth With No Regrets process and co-author of, "The 7 Regrets Wealth Creates and How To Avoid Them".