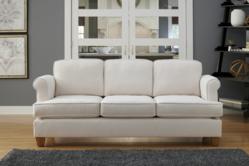 "If you do not like your Simplicity Sofas furniture for any reason whatsoever you may return it for a full refund, including all shipping charges, for a period of one year after purchase."
High Point, NC (PRWEB) April 10, 2013
Simplicity Sofas reached a milestone last week. Since the company opened in 2007, it has shipped to over 2500 customers without ever receiving a negative review. According to owner Jeff Frank, customer experience is one of the primary reasons the company was able to survive and thrive during the Recessionary years.
Mr. Frank is a fanatic about what he calls "extreme" customer service. "The concept is very simple," Mr. Frank says, "We just treat our customers the way we would like to be treated if we were buying furniture."
That means a Total Satisfaction warranty that guarantees customer satisfaction "for any reason whatsoever" or the customer can return the furniture for a full refund including shipping charges.
The warranty is backed up by prompt and frequent communication between the company and its customers. "If I was buying a sofa," Mr. Frank said, I would want the company to keep me informed. I would want to know what to expect - how long it takes to build the furniture, when it will be ready for shipment, all about the shipping and delivery process. I would want the delivery to be on time."
According to Mr. Frank, there are two things that every company can do to improve customer service. First, return all messages. Second, respond quickly. "Speed is a critical factor in creating great relationships with your customers. If you can get back to the customer within a couple of hours, even if you don't yet have a solution, you are dealing with a friend. Once you let a problem linger more than 24 hours without a response, you are dealing with an adversary. Fixing the problem then becomes more difficult and more expensive."
Even when there is no problem people appreciate prompt responses. "It establishes a relationship where the customer feels that the company cares," said Mr. Frank." In problem situations this relationship pays off with customers who are usually willing to work with us to find reasonable solutions."
Over the past 30 years, Mr. Frank has worked in several retail environments where customer service dealt daily with dissatisfied customers. "Unhappy and angry customers drain the spirits of employees and reduce their efficiency." Mr. Frank observed. "In over 5 years at Simplicity Sofas, I don't remember any of our employees having to deal with an angry customer. Customers may be upset for a short while when they first come across a problem, but when they are assured that the problem will be taken care of to their satisfaction, the anxiety disappears."
When a serious problem occurs the Simplicity Sofas customer is given a choice of possible solutions. The first option is always "Return furniture for a full refund." That gives the customer a sense of security with the knowledge that if the problem can't be fixed to their satisfaction they will not lose out financially. It removes the adversarial relationship that is so common in the industry. Very few customers (approx. 1%) choose to return their furniture for the full refund.
Mr. Frank insists that in any problematic situation, the first response should always be, "We will take care of the problem!" And the mindset must be, "If I was this customer, what would I want and expect the company to do for me? And then exceed that expectation!"
About Simplicity Sofas http://www.simplicitysofas.com
The Company opened its manufacturing facility in November 2007, three weeks before the official beginning of the Recession and has continued to grow ever since. In May 2010, the company moved its manufacturing to a larger facility in High Point, NC.
Simplicity Sofas specializes in custom-built sofas, sleepers, sectionals and chairs for Small Spaces and Tight Places. Simplicity Sofas guarantees that its furniture will fit through any door, stairway, elevator, RV or boat, no matter how narrow the entranceway. The entire line is scaled for smaller rooms.
A choice of over 200 in-stock fabrics is available. Fitted slipcovers, Spring Down cushions and many other custom options are also available.
All products are shipped unassembled. A single person can assemble a full-size sofa in 15 minutes with no tools. (See a YouTube video of an 8-year-old boy assembling a Simplicity Sofa by himself in less than 5 minutes.