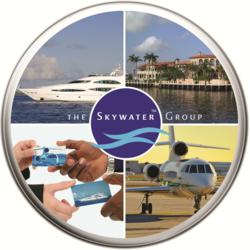 Exchanging assets is another avenue that Skywater Group utilizes to help promote and market assets for sale.
Fort Lauderdale, Florida (PRWEB) February 28, 2013
Skywater Group announces the hiring of Mr. Bill Beeche to head up the Skywater Exchange division. Bill brings over 25 years of Commercial real estate experience to the Exchange division, that specializes in finding like minded owners of various assets (typically - real estate, yachts or planes) who are willing to trade or "Exchange" their asset for another asset. "We have found a lot of our existing client base of HNWI are very interested in this concept," states Beeche, "since this adds another sales and marketing dimension to our other divisions that specialize in their dedicated fields of real estate, aircraft and yacht brokerage."
The company has also hired Mr. Fabian Schroeter as Vice President of International Business Development to help expand the Groups global reach. Fabian, who speaks fluent German and Thai has a diverse experience in business development in various countries. "Both Bill and Fabian bring some valuable skill sets to the expanding Skywater brand" says Larry Morales Founder of the Group.
The company will be displaying at the upcoming Palm Beach Boat Show, Mar.21-24 2013 in downtown West Palm Beach, where they will be discussing their exchange concept and offering other assets for sale, from a 2007 47' Azimut M.Y. to a 116' Crescent M.Y. to a Bell 407 helicopter.