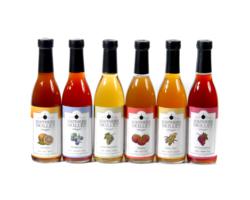 Belle Chevre's truly fine varieties of chevre dovetail perfectly with Southern Skillet Vinegar's mission of bringing handcrafted foods to the family table."
Monroeville, AL (PRWEB) February 06, 2013
Two Alabama entrepreneurs are sharing their love of Southern food this February with recipes combining Southern Skillet Vinegars with Belle Chevre goat cheese. The romantic menu, featured on Southern Skillet's website, includes the hand-bottled Red Muscadine Vinegar in Goat Cheese Ravioli with Three Peppers, and Sugar Cane Vinegar warmed into a Frisee Salad with Baked Chevre de Provence. Recipes and accompanying photographs by Alabama's own Stephanie Schamban were based on those found in Tasia's Table, the stunning cookbook recently released by Montgomery, Alabama-based publisher NewSouth Books.
"Our mild Alabama chevre makes a great counterpoint to these artisanal vinegars," says Belle Chevre president and award-winning cheesemaker Tasia Malakasis. "I embrace any chance to work with another Southern company who is as obsessed with good food as we are."
"I'm thrilled to feature Tasia as our first seasonal chef of 2013," echoes Southern Skillet Vinegar Director of Sales, Virginia Sutton. "Her elegance and passion for fine cooking, her genuine warmth, and her truly fine varieties of chevre dovetail perfectly with our mission of bringing handcrafted foods to the family table."
Belle Chevre has produced a variety of internationally acclaimed chevres since 1989 using time-tested European farmstead techniques. The company is purposefully small, and each chevre is hand made in Alabama by its passionate cheese makers. Belle Chèvre cheeses have received numerous national awards from the American Cheese Society and the American Dairy Goat Association, and have been featured by Martha Stewart, Oprah, and everyone in between.
Southern Skillet Vinegars are natural, vegan and raw fruit wine vinegars with no artificial flavors, ethanol, or enhancers, made solely from vine-ripe Gulf Coast fruits harvested from family farms. The hand-bottled vinegars are well-aged and released in small batches annually each June. They have been celebrated in Fine Cooking, Alabama Magazine, and in news features from Austin to D.C. For more information, including details about cooking with individual varieties, visit http://www.southernskilletvinegar.com
Belle Chevre and Southern Skillet Vinegars are available at specialty retailers nationwide, including http://www.bellechevre.com. You can also find Belle Chevre at Whole Foods Market and Earthfare and Southern Skillet Vinegars at amazon.com