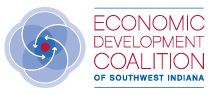 Our primary mission is to visit companies that match our target sectors exploring opportunities for expansion and relocation.
Evansville, IN (PRWEB) May 15, 2013
Representatives from the Economic Development Coalition of Southwest Indiana traveled to Germany last week to promote the region as well as strengthen cultural relationships with the City of Evansville's Sister-City – Osnabruck. "Every year we promote Southwest Indiana through one or two key international trips," stated Greg Wathen, President and CEO. "Our primary mission is to visit companies that match our target sectors exploring opportunities for expansion and relocation."
Providing updates on the region's economy and new assets, such as University of Southern Indiana's advanced manufacturing center or Warrick County's Wellness Trail medical corridor, were topics of conversation as well as the abundance and competitive price of natural gas.
Ten meetings were held with companies and trade organizations over a three-day period in Frankfort, Hanover, Bielefeld and Osnabruck targeting opportunities in advanced manufacturing, logistics/distribution, health/life sciences and plastics. The meetings were arranged and coordinated by Jan Christoph Wiedemann, head of Indiana's Berlin office. One of the primary reasons for the trip is the increased activity in German companies that have considered Southwest Indiana as a possible location during the past 12 months.
The remainder of the trade mission focused on the Sister or Twin City celebration activities led by Evansville Mayor Lloyd Winnecke. Delegates from Evansville were the only representatives from the United States. Other countries with representatives in attendance were Austria, United Kingdom, Russia, France, Netherlands, Turkey and China.
The Economic Development Coalition of Southwest Indiana acts as the marketing arm and economic development umbrella organization for Gibson, Posey, Vanderburgh and Warrick Counties. Since 2007, the Coalition has helped garner $437 million in investment creating 3,034 jobs; plus, the Coalition's Community Development team has helped our communities secure over $65 million in infrastructure and capacity. The collective investment and jobs data for the Coalition along with its local economic development partners: Posey Co. Economic Development Partnership, Gibson Co. Economic Development Corporation, Growth Alliance for Greater Evansville and Success Warrick County is over $1.6 billion with over 4,850 jobs. These investments are the key to having the infrastructure and quality of life necessary to keep attracting companies to our region.