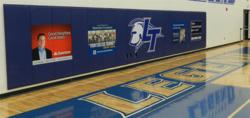 "Sports Image has allowed us the opportunity to have a strong presence in several local schools, while making the process incredibly easy & turn-key." Rachel Robinson, PR/Marketing Director, Parker Adventist Hospital
Parker, CO (PRWEB) February 19, 2013
In only their first year in business, Sports Image-Denver has given new equipment valued at $10,000 and $16,000 cash donations to local Colorado high schools. As part of a growing high-school sports marketing industry, Sports Image-Denver works diligently to form partnerships between high schools and local businesses.
In a recent conversation with Tony Antolini, District Athletic Director for the Aurora Public School District, he stated that " they [APS Athletic Departments] never turn a student away for not being able to pay the fee for sports." His school district is fully aware that if students participate in sports, they are more likely to graduate high school. Because of this, their Athletic Departments funds are depleted. Sports Image-Denver created a revenue project that will allow APS to supplement their existing budgets.
Other schools, like Legend High School in Parker, Colorado, albeit the newest school in Douglas County, also had a legitimate need for the services of Sports Image-Denver. Jason Jacob, Legend High School Athletic Director, stated that they "just ran out of money" when the school was being built. This predicament left them with a minimal and unsafe solution for wall padding in their main gymnasium. Sports Image-Denver created an equipment project for Legend. Ultimately, Legend received brand new wall padding paid in full by four local businesses which advertise directly on the wall padding.
High School athletic budgets throughout Colorado & the nation have experienced significant budget reductions, increased player participation fees and loss of entire sports programs. In an effort to meet the growing financial needs at these high schools, Sports Image-Denver creates unique advertising packages for local businesses. Each high school project has an ultimate goal, established by the school. Typical project goals include raising money to purchase new equipment or using raised funds as an additional revenue stream.
The crowds gathered at high school sporting events represent a terrific cross-section of the local community. Directly reaching new & repeat customers is critical for most businesses advertising. The crowd diversity is a "melting pot" of demographics from home owners & renters, families, car owners and consumers of everyday items & services.
In addition to the creative advertising, Sports Image-Denver also provides each business sponsor opportunities to interact with the crowds. Most of the venues are touting attendances of 250,000-300,000 people each school year. Crowd engagement options like, having a kiosk at the game, hosting a halftime event, and passing out coupons are great options for sponsors.
Sports Image-Denver is delighted that the following local high schools have profited from their efforts: Ponderosa, Legend, Smoky Hill, and Chaparral. Active projects are underway for Cherry Creek HS, Cherokee Trail HS, Grandview HS, APS School District, and many more. Many thanks to corporate sponsors that partnered with high schools via Sports Image, University of Northern Colorado, Monfort College of Business at UNC, Parker Adventist Hospital, Tutor Doctor, Country Financial, State Farm Agent, Joe Bussey, and Jack in the Box.
For businesses interested in hearing more about advertising to these large crowds, please contact Sports Image- Denver at 720.381.0252.
Like us on Facebook at Sports Image-Denver and receive immediate information on all of our projects!