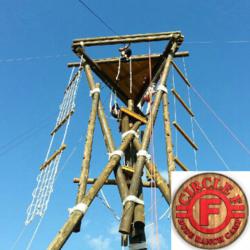 This year, Circle F has added an Alpine Tower, a 60-foot-tall structure that offers a variety of high and low outdoor challenge experiences -- great for building confidence and team spirit.
Lake Wales, FL (PRWEB) June 06, 2013
Air conditioned cabins, horseback riding, Alpine Tower challenges, zip lining, water activities, paintball, skateboarding and many sports and fun activities help make a great summer camp experience for 2013 campers.
Circle F Dude Ranch Camp is set in an amazingly tranquil and beautiful 500 acres of private land in Lake Wales, FL. Campers enjoy active days among wide expanses of land and playing fields, spreading live oak trees covered with Spanish moss, a stable with 65 horses, corrals, miles of horseback-riding and hiking trails, and a 42-acre lake for swimming, boating and water sports. Occupancy at summer camp sessions is high, as families have spread the word and return for multiple summers. Campers come from all over Florida, other states, even from the United Kingdom, Spain, Brazil, Australia and Russia.
How does a popular camp program like Circle F improve its appeal? How does it stay current and connected to today's 6-to-18-year-old boys and girls?
"There is no one thing that makes a camp like Circle F a great experience for young people," says Captain Paul Wells, owner and managing partner since 2000. "When you stop improving, you begin losing ground, so we stay focused on getting better."
"From Good to Great" Starts With People
"It all starts with putting together a staff of great directors and counselors who have camp experience, skills and the right attitude," adds Captain Wells, "and it includes a range of considerations from facilities to food, and from new activities to well planned programs and safety."
Paul Wells earned his "Captain" rank during years of serving as captain of ocean cruise liners. This gave him a "customer focused" understanding of how to provide a quality, fun experience for customers over a period of days and weeks.
Captain Wells personally selects his staff. Most counselors are college students who have had previous camp counselor experience. Newer counselors are paired with more experienced ones, and the senior camp managers have been with Circle F for many years.
"We create a wholesome, enriching atmosphere; a place for young people to grow", says Ben Moss, Camp Director, who has over ten years of experience in youth programming and camp management. "Campers look up to our counselors and listen to them, so we want our counselors to be great role models and to help each person be accepted, have fun and to grow in confidence and skills."
A Well-Rounded Program Of Activities
Focus, passion and experience keep Circle F growing stronger each year. If you have ever enjoyed a treasured experience at sleep-away camp, you know that a key to success is a well planned program of varied activities: challenge, fun, sports, learning, lots of social time and some quiet time to rest and talk.
Campers can choose from 25 different activities in addition to paintball, horseback riding, water front, and rock-wall climbing. Each camper has an individual daily schedule based on his/her choices. Options include skateboarding in Circle F's skate park, photography, soccer, tennis, flag football, softball, archery, arts and crafts, creative improvisation, dance, tumbling, cheer-leading and more.
New "Alpine Tower" Builds Confidence
This year, Circle F has added an Alpine Tower, a 60-foot-tall structure that offers a variety of high and low outdoor challenge experiences. Camp staff has been specially trained on safety and the many functions of the tower. Any number from 8-to-36 campers can work together in teams to meet challenges like climbing and twin zip lining. It is great for building confidence, developing team spirit, improving communication, and simply having a great adventure.
Age-Specific Activities Make Great Fun
Every day's activities are planned out for every group. "Most activities are geared to the campers' ages," says Katie Mac Farlan, Circle F Camp's Program Director. "An activity that boys 6-10 years old really enjoy is our "Rocket Club", where they design and build paper rockets and shoot them off propelled by matchstick rockets." The boys really get into making and launching their cool rockets. Of course, staff ensures that the activity is safe and well supervised. Similar girl-focused programs are planned for young girls.
Another popular activity is a "Girls Night" evening away from camp, and a "Boys Night" version as well. These include an evening hike, outdoor laser tag, and more.
Friday night theme dances are hugely popular for campers age 11 and up. Held at the large, air conditioned "Round Up" Recreation Center, the dances are complete with a DJ, music and lights, and decorations according to a popular theme. Upcoming dance themes include a "Signature Dance", where everyone signs each other's t-shirt; an "Intergalactic Space Dance" with a fun glow-in-the-dark space theme; and a "Celebrity Dance", where campers dress up as their favorite celebrities. Is Elvis in the building?
Great Food & Air Conditioned Cabins
Campers and staff enjoy well-balanced, appetizing, and nutritious meals in the spacious "Lasso Lodge" overlooking the lakefront. Circle F chefs offer a unique, home-style, and non-institutional approach to the camp food experience. They serve up fresh eggs and potatoes – no powders; and provide many vegetarian options. A healthy salad bar is served at lunch and dinner, complete with tuna, different beans and a variety of fresh fruits.
Campers sleep in rustic, cypress-wood cabins that are very clean and comfortable. Each air conditioned cabin has a bathroom and shower, and sleeps 12: 10 boys or girls grouped by age, and 2 counselors. They sleep on new, super-comfortable memory-foam mattresses.
Still Time To Register … Call 863-676-4113 Today
Circle F Dude Ranch Camp offers four 2013 summer camp sessions beginning June 9th. Give your child an experience that they will cherish and remember forever! Call today to ask about registration for one of these sessions: 863-676-4113. Or register online.
See why better-than-ever Circle F Dude Ranch Camp is the premier specialty camp in Florida! Visit the Circle F website, Facebook, or on Twitter.
About Circle F Dude Ranch Camp
In continuous operation since 1952, Circle F Dude Ranch Camp, LLP, is conveniently located in Lake Wales, FL, within comfortable driving distance from Miami, Fort Lauderdale, Tampa and all Florida. In addition to summer camp sessions every year from June to August, Circle F offers family weekends, a School Outdoor Education Program, organization or business events, women's weekends and more!
The School Outdoor Education Program is attended by students from schools from all parts of the southeast. It has been structured with Florida State Teaching Standards in mind, and encourages students to build and maintain a connection with the unique ecosystem of central Florida. Students experience natural freshwater ecology, a scrub forest, and sand hill ecosystems. They learn from Circle F's dedicated and knowledgeable instructors that are caring youth-development professionals and facilitate positive, enriching learning.