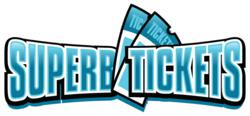 All tickets purchased from this organization are guaranteed to be 100 percent valid and authentic,
Milwaukee, WI (PRWEB) January 19, 2013
SuperbTicketsOnline.com is offering a 100 percent ticket guarantee on all of the Super Bowl tickets the organization is selling for the NFL's championship game. The AFC and NFC champions will play in the contest at 5:30 p.m. CDT at the Mercedes-Benz Superdome in New Orleans. The game is a prime cultural event as it annually garners some of the country's highest television ratings.
All tickets purchased from this organization are guaranteed to be 100 percent valid and authentic, and the exact tickets purchased - or better seats at the same price - will be provided in advance of the event. They will be sent via FedEx Express in most cases. If the tickets are bought too close to the event day for that to be possible, another delivery option will be provided. These can include the tickets being sent via e-mail or being left at the will-call window or having a meet-up arranged with one of the organization's representatives.
Football fans and many others who only follow one game a year have circled the date of this game on their calendars every year for quite some time. This game has quickly sold out every year except for the first edition of the game, held on Jan. 15, 1967. It was titled the AFL-NFL World Championship Game at the time. For several years, the AFL and NFL were completely separate entities, and the football seasons those years would end with the AFL and NFL title games. In January 1967, however, the AFL and NFL champions played each other to conclude the football season.
The AFL was absorbed into the NFL following the 1969 regular season. The January 1970 title game, a 23-7 win for the AFL champion Kansas City Chiefs over the Minnesota Vikings, was the final one played under the split AFL-NFL format. The NFL would increase from 16 to 26 teams that year, and it split into the AFC and NFC. Three squads – the Baltimore Colts, Pittsburgh Steelers and the Cleveland Browns – moved from the former NFL to the new AFC to even out the conferences at 13 teams apiece.
About Us
SuperbTicketsOnline.com is one of the most popular ticket destinations for those looking to attend high-profile events. Some of the organization's most popular sports tickets include Super Bowl tickets, Kentucky Derby tickets and Masters golf tournament tickets. Top theater and concert seats are also available in all price ranges.