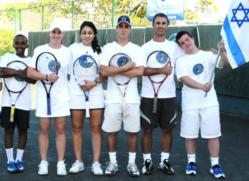 We have to make sure that within 15 seconds of the sirens going off our children can reach a protective bomb shelter.
New York City, NY (PRWEB) May 21, 2013
In light of the ongoing tension between Israel and its neighbors to the north and south, the Israel Tennis Centers Foundation has announced that it is stepping up its initiative to raise funds to equip its Centers throughout Israel with additional bomb shelters.
"Our children are the future of our country, and the Israel Tennis Centers must continue to be a safe haven," said Ben Beiler, CEO of MPC Containment Systems in Chicago and President of the Israel Tennis Centers Foundation in the USA. "They have to feel safe and secure when they are at one of our facilities. That means we have to make sure that within 15 seconds of the sirens going off each and every one of them can get into a protective shelter."
A key component of this effort is the support by donors in North America to ensure the completion of these bomb shelters. "Shelter Our Children With Love From North America" has become the rallying cry in an unprecedented fundraising effort this summer that will extend from coast to coast. It is the largest and most ambitious program that The Israel Tennis Centers has ever launched, with the goal of raising $500,000 before the end of 2013 to install 24 more shelters. A total of 8 tennis exhibitions have been scheduled in the month of June in the following cities to showcase a group of amazing Israeli kids to help raise these critically needed donations:

Toronto, Canada June 2nd
San Francisco, CA June 7th
Napa, CA June 8th
Los Angeles, CA June 9th
Scarsdale, NY June 10th
Washington, DC June 11th
Philadelphia, PA June 13th
Short Hills, NJ June 14th
In light of the immediate need to raise funds, one of the ITC's original 6 founders, South African Israeli, Dr. Ian Froman, will be making a special visit in North America at the first of these events in Toronto. Dr. Froman's visit further underscores the urgency of this initiative.
"We cannot afford to wait for the next round of terror to start raining down on our children." ITC's VP of Global Development Jacqueline Glodstein said. "These shelters have to be completed now so that the children and their parents know that they are protected during these very uncertain times."
For more information or to attend one of these events, please visit the ITC website at http://www.israeltenniscenters.org or contact Richard Weber, Global Director of Marketing, at rweber@israeltenniscenters.org or 212-584-5723.
About the Israel Tennis Centers Foundation:
The Israel Tennis Centers Foundation (ITC) is a 501 (c) 3 not-for-profit organization that has worked since 1976 to enhance the social, psychological and physical development of Israeli youth. Through the medium of sport, the ITC helps over 20,000 children annually, many of them from disadvantaged neighborhoods or outlying development towns throughout Israel. The ITC's 14 centers stretch from Kiryat Shmona on the Lebanese border in the North to Beer Sheva bordering the Negev Desert in the South. http://www.israeltenniscenters.org.
Contacts:
David W. Lippy
(614) 939-1533
DLippy(at)Insight(dot)rr(dot)com
Richard Weber
Global Director of Marketing
(212) 584-5723
rweber (at) israeltenniscenters(dot)org
Jacqueline S. Glodstein
Vice President, Global Development
(646) 884-7450
jglodstein (at) israeltenniscenters(dot)org