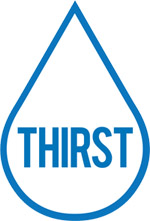 Thirst addresses the growing need for people to easily and efficiently stay up to date on current news topics in a social context without becoming overwhelmed. – Anuj Verma, CEO, Thirst Labs
San Francisco, CA (PRWEB) February 12, 2013
Thirst Labs today announced that the Thirst news platform has been extensively revamped and is now available to everyone. With its expanded capabilities, Thirst is now the most user-friendly way to discover, share and discuss current news by topic on a single platform that combines social discussion with timely, personalized content from around the Web.
The newly launched platform gives people a simple, elegant way to stay informed about and socially connected around relevant news topics. With more than half of Americans now getting their news online according to The Pew Research Center, Thirst saves people time by sorting and organizing the proliferation of social media chatter, blogs and other online content. The Pew Research Center also reports that one-third of adults under age 30 use social networks as a news source, underscoring the growing importance of social networks as a component of news consumption.
New Features:

Single Social News Platform: Unlike other online news tools and social networks, Thirst fills a void in the current market by giving users a single interface to track, post and comment on news topics from multiple users and online sources. Because the content on Thirst is organized by topic, Thirst enables ongoing social discussion of news with a broader scope than other news or social platforms.
Aggregated Web Content: Building on its award-winning iPad and iPhone apps, which sorted and organized millions of tweets by topic, Thirst now searches content throughout the Web including articles, headlines, social networks and blogs.
Social Capabilities: The revamped Thirst platform includes enhanced social capabilities, offering a user-friendly way to discover relevant news by seeing what others are sharing and commenting on by topic, providing a complete social news experience.
Intelligent Personalization: In addition to expanding the scope of its content, Thirst's proprietary technology uses intelligence to personalize based on user preferences. Using metrics such as time spent on particular topics, indicated "likes/dislikes," and blocked content, Thirst delivers a "living newspaper" which continually adapts to each reader's profile, settings and habits.
Downloads and Availability:
Thirst is now available for both mobile and Web users, with a release planned for Android users in 2013. For download details or to access Thirst online, please visit http://www.thirst.co.
Quotes:
"As traditional newspapers continue to decline in popularity, the demand for online content is burgeoning. Thirst addresses the growing need for people to easily and efficiently stay up to date on current news topics in a social context without becoming overwhelmed." – Anuj Verma, CEO, Thirst Labs
"The news industry is struggling to reinvent itself. In order to succeed, media companies need deeper insight into their readers' interests in order to attract audiences and advertisers. In addition to filling a growing need for consumers, Thirst Labs is positioned to provide valuable analytics to the media through its natural language processing technology." – Jonathan Ebinger, Partner, BlueRun Ventures
Resources:
Download Thirst app
Thirst Labs Images and Screen Shots
Video: The New Thirst
About Thirst Labs
Thirst Labs bridges the gap between how people get their news and where they engage with it. Thirst Labs was founded by Anuj Verma and Kunal Modi, UC Berkeley graduates specializing in UI, UX, algorithms and architecture. Winner of first prize at the 2012 SXSW Accelerator Competition in the social category and the Judges' Choice award at GigaOM's Mobilize 2012 LaunchPad, the company's investors include BlueRun Ventures, Steve Newcomb, and Jason Krikorian. Thirst Labs is headquartered in San Francisco, Calif. For more information, visit thirst.co.