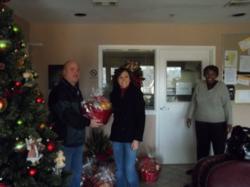 "The IOH staff and community have been so appreciative and fun to work with on each of the projects, that we are already trying to identify the next before we've even completed the one we are working on," said Liz Shoemake, co-founder and CFO of Tiverity.
Atlanta, GA (PRWEB) February 07, 2013
The Interfaith Outreach Home (IOH) provides housing for some of the 7,000 homeless families in the Metro Atlanta Area, while maintaining a commitment to transition its residents to more permanent dwellings. For the second time this year, many Tiverity employees recently participated in an improvement project at the facility. On Wednesday, November 28th, 2012, Tiverity sponsored a stepping stone initiative to improve access to the IOH Playground area. The employees wanted to do something special for the children that live and play there. The project consisted of our Top executives and team members getting their hands dirty, literally, by digging in while installing paving stones to provide a safe walkway to the children's playground.
Tiverity began their journey with IOH in the spring of 2012, and sponsored a home repair and cookout for the IOH Community shortly thereafter in July. With the holiday season upon us, the IOH families again came to mind and the Tiverity team wanted to do something for each of them to make their holiday special. The employees wanted to promote the celebration of family, and did so by providing each with a gift basket and gift card for a complete holiday feast. Each of the Tiverity team members shopped for and contributed one of their holiday favorites, then Liz Shoemake, Tiverity CFO, bundled the beautiful baskets for delivery to IOH.
Located in Doraville, Georgia, Interfaith Outreach Home is a non-profit organization that was founded in 1989 to provide a safe, secure, and nurturing environment for homeless families. Deborah Walker-Little, the Executive Director, and Singne Walker, the Administrator, make sure the home helps families with children recover from the devastating effects of homelessness, and helps them return to self-sufficiency.
About Interfaith Outreach Home
IOH was incorporated as a 501 (c) (3) nonprofit corporation in 1989 to provide a safe, secure, and nurturing environment for homeless families. Families in the IOH program live in small self-contained apartments located in Doraville, Georgia. Our goal is to empower families to take control of their lives and successfully return to the larger community through intensive counseling, life skills training, job preparation, job search, and coaching. The focus of the life skills training and coaching includes problem solving and decision-making, parenting, budgeting, and money management. For more information on Interfaith Outreach Home, or to find out how to make a donation or how else you can help, visit http://www.iohome.org.
About Tiverity
Founded in Atlanta, Georgia in 2004, Tiverity is a professional IT Service Provider and value-added reseller of communications and contact center products, collaborative solutions, and innovative technologies. The award-winning practice around which the company was formed, providing strategic allocation and utilization of contact center resources, has been in place since 1998. Tiverity is a privately-held company striving to provide small and mid-size organizations with affordable, scalable, and easy-to-manage solutions. For more information on Tiverity, visit http://www.tiverity.com.