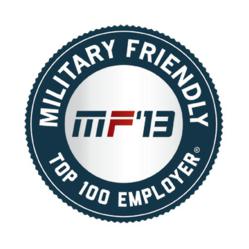 "The new site at www.militaryfriendly.com enables veterans to create custom employer lists based on their unique criteria and preferences, using our extensive data engine," said Sean Collins, vice president of G.I. Jobs
Pittsburgh, PA (PRWEB) November 08, 2012
G.I. JOBS Announces 2013 Top 100 Military Friendly Employers ® List on MilitaryFriendly.com
New digital site allows job seekers to find their own Military Friendly Employers ® List
The 10th annual list of Top 100 Military Friendly Employers® was released today on http://www.militaryfriendly.com, a new digital site highlighting companies with leading employment solutions for military. The list of 100 companies represents the top 2 percent of more than 5,000 eligible companies whose annual revenues exceeded $500 million.
The Military Friendly Employers® list, which is verified by Ernst & Young LLP, serves as the primary benchmark of corporate recruiting programs aimed at veterans. Companies vehemently compete to make the list, which gives them an advantage in recruiting highly coveted military-trained talent. This year's #1 Military Friendly Employer, USAA, has been a perennial top performer, making the Top 100 list every year since 2003, but enjoying its first time at the top.
"It's a great honor, not just for me as CEO... but what the #1 designation means to me is that all our employees have pulled together to make USAA a good place for veterans to come and work," said CEO Joe Robles, a retired Army general. A recent initiative started by USAA, called Combat to Claims, trains young post-9/11 veterans to become claims adjustors. "The reason the program is working so well is because military folks have such a sense of discipline and order, and they deal with many of the things and skills that claims people do every day," said Robles.
In its 10 years, the Military Friendly Employers ® list has significantly increased the quality of corporate programs aimed at recruiting veterans. Since 2003, the average percentage of veterans hired by companies on the list has grown 138%, the average number of full-time military recruiters has grown 68% and military recruiting budgets have grown 268%.
An Advisory Board consisting of leaders in the military recruitment community helps determine methodology, criteria and weightings for the list. A full list of board members can be found at MilitaryFriendly.com/board.
"The new site at http://www.militaryfriendly.com enables veterans to create custom employer lists based on their unique criteria and preferences, using our extensive data engine. Custom lists can then be saved and shared socially with fellow veterans," said Sean Collins, vice president of G.I. Jobs.
Collins also noted that while the employer rankings within the Top 100 list are interesting from a data perspective, simply making the list places employers in the 98th percentile of all eligible companies.
About Military Friendly®:
Victory Media, publisher of G.I. Jobs, is a service-disabled, veteran-owned small business and has been serving the military community since 2001. Our Military Friendly® lists and methodology can be found at http://www.MilitaryFriendly.com. Our data-driven lists are published in G.I. Jobs, Military Spouse, Vetrepreneur magazines, republished in periodicals like USA Today, Wall Street Journal, Fortune, Bloomberg BW and are frequently cited on national TV by NBC, ABC, CBS, CNN, CNBC, Fox News and others. Criteria for consideration include the strength of company military recruiting efforts, the percentage of new hires with prior military service, retention efforts, and company policies on National Guard and Reserve service.
You can follow Military Friendly® on Facebook at http://www.facebook.com/MilitaryFriendly or on Twitter @Mil_Friendly
For further information on G.I. Jobs or Victory Media, or to arrange interviews, contact:
Barbara Pflughaupt at 212-707-8181 or Judee Cohen at 917-721-0663