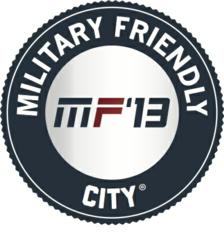 "As a result of their pro-military and veteran policies and practices, these cities will certainly have an advantage in attracting this young, vibrant talent as they choose where to raise their families after leaving the military," said Sean Collins
Pittsburgh, PA (PRWEB) June 04, 2013
San Antonio came out on top of the Military Friendly Cities® list released today. The state of Texas did particularly well, with seven cities, including Dallas/Fort Worth, Houston, Austin, El Paso, Corpus Christi and Killeen. Other notable big cities that made the list included Chicago, Boston, Washington D.C., Seattle and Phoenix.
"Texas has a long and proud history of supporting our active duty men and women in uniform, our veterans and their families," Gov. Rick Perry said. "We are committed to creating an economic climate that provides them the best opportunity for success, and providing the resources they need to transition back to civilian life once they return home."
All 381 metropolitan areas in the U.S. were eligible for the Top 50 Military Friendly Cities® list, which represents the top 12.5% nationwide. The list measures the number of job openings at Military Friendly Employers®, the number of Military Friendly School® campuses and the number of veteran-owned businesses located within the region. The list also takes into account the cost of living and unemployment rate, which are not uniquely tied to the military.
"Only one in eight metropolitan areas made this list," said Sean Collins, brand director for G.I. Jobs, which conducts the study and publishes the list. "As a result of their pro-military and veteran policies and practices, these cities will certainly have an advantage in attracting this young, vibrant talent as they choose where to raise their families after leaving the military."
Attracting young families and young, skilled workers is critical to any region's short- and long-term success. The median age of the 400,000 service members who transition from the military each year is 24 years old, and more than half are married. Exiting service members represent perhaps the country's largest and most attractive pool of labor and economic vitality.
# # #
About Military Friendly Cities®:
The Military Friendly Cities® list is compiled from survey data included in the Military Friendly Employers® and Schools list, which are released annually and audited by Ernst & Young LLC. You can find these lists on http://www.militaryfriendly.com. The list is conducted and published by G.I. Jobs magazine, which is owned and operated by Victory Media, a veteran-owned business.
About Victory Media:
Victory Media is a service-disabled, veteran-owned small business that has been serving the military community since 2001. Our data-driven lists are published in G.I. Jobs, Military Spouse, Vetrepreneur media channels, republished in periodicals like USA Today, Wall Street Journal, Fortune, Bloomberg BW and are frequently cited on national TV by NBC, ABC, CBS, CNN, CNBC, Fox News and others.
You can follow Military Friendly ® on Facebook at http://www.facebook.com/MilitaryFriendly or on Twitter @Mil_Friendly
For further information on Military Friendly® or Victory Media, or to arrange interviews, contact:
BP Media Relations, LLC
Barbara Pflughaupt at 212-707-8181 or Judee Cohen at 917-721-0663.