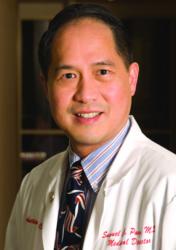 Procreation may not be an option after gender transition. Younger men and women, especially, need to know that fertility preservation is available to help them have genetically related children if they wish to at some point in their future.
Boston, MA (PRWEB) February 28, 2013
Dr. Samuel Pang, Medical Director at the Reproductive Science Center of New England, presented "Family Building Options for Transgender People Using Assisted Reproductive Technologies" at the 2013 First Event transgender Annual Conference in January 2013. Sponsored by the Tiffany Club of New England, this is the second year that Dr. Pang, a national authority on assisted reproduction for LGBT men and women, has been invited to speak.
As Dr. Pang explains, "Historically, transgender men and women have been able to have children through heterosexual relationships prior to their coming out and transitioning. More recently, trans and genderqueer individuals are coming out and transitioning sooner in their lives. Consequently, they may not have the opportunity to have children through a traditional heterosexual relationship."
"Having babies and raising a family may not be a topic that is foremost in the minds of younger transgender men and women," says Dr. Pang. " However and unfortunately, procreation may not be an option after a transgender person has completely transitioned. Public education about fertility is part of our mission at RSC New England and we want trans and genderqueer young people especially to know that it is important to consider the future and take steps to preserve their reproductive potential prior to transitioning."
With the availability of assisted reproductive technologies (ART), transgender individuals have the opportunity to have genetic offspring if they choose to do so. However, it is important to plan ahead.
Dr. Pang advises that, "Prior to gender reassignment hormonal treatment and surgical procedures, transgender individuals may bank their gametes (sperm or eggs) which could be used in the future to build their families through ART."
Specifically, Dr. Pang explains that, "The hormonal treatments that male-to-female individuals undergo as they transition are likely to cause suppression of spermatogenesis. To preserve one's ability for the possibility of parenting a child, sperm must be collected, frozen and stored at a sperm bank."
"Female-to-male individuals also go through fertility hormonal treatment which could potentially damage their fertility potential," states Dr. Pang. "These individuals have the option for their eggs to be retrieved, frozen and stored in an egg bank. Ideally, this should be done prior to initiation of hormonal therapy. Alternatively, in vitro fertilization (IVF) before transitional treatment is another option for fertility preservation. IVF involves egg retrieval, insemination with sperm, followed by cryopreservation storage of resulting embryos which may be used to conceive children in future."
Persons interested in a consultation with Dr. Pang can schedule an appointment by calling 800.858.4832, or go to RSC New England's website dedicated to the LGBT community and request an appointment online at GayIVF.com.
For more information, and the opportunity to meet and ask questions, Dr. Pang will be presenting an LGBT Family Building options seminar at Fenway Health Center in Boston, MA in April. Those interested can register here.
Celebrating its 25th anniversary year, the Reproductive Science Center (RSC) of New England is among the 6 largest fertility treatment providers in the United States. In addition to diagnosis and treatment of infertility, RSC New England provides assisted reproductive services for gay, lesbian and transgender persons. RSC New England has offices in Massachusetts, New Hampshire and Rhode Island. RSC New England is also a member of Attain Fertility Centers, the largest national network of infertility treatment providers in the U.S.