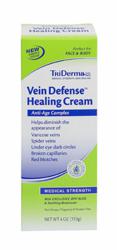 "We use generous amounts of active ingredients to speed results. I want TriDerma formulas to produce results quickly. As we age, reducing the look of veins becomes more important."
Anaheim, CA (PRWEB) May 08, 2013
TriDerma announced the launch of its Vein Defense™ Healing Cream. Vein Defense Healing Cream is a professional strength formula that provides an alternative to expensive laser procedures.
The cream is a concentrated formula created to help reduce the look of veins, spider veins, red blotches and broken capillaries on the face and body. It contains the company's proprietary botanical complex, AP4® Genuine Virgin Organic Aloe, which boasts over 200 healing properties. Active plant extracts, anti-aging peptides, vitamins and other specially selected ingredients work synergistically to promote healthy skin. TriDerma is offering its Vein Defense Healing Cream in the First Aid aisle at national drugstores. Find store locations at http://www.triderma.com/where_to_buy.
TriDerma Vein Defense Healing Cream also contains Optical Blurring Pigments. These optical blurs reflect light, producing a blurred effect which softens the look of lines and wrinkles, for an overall softer appearance.
Holly Ahearn, Director of Research and Development at TriDerma says, "We use generous amounts of active ingredients to speed results. I want TriDerma formulas to produce results quickly. As we age, reducing the look of veins becomes more important."
TriDerma says it's not only women who want to reduce the look of veins and spider veins. Men are also interested in a vein solution, especially for the face. The formula is non-greasy and contains no fragrance or color, factors that are important to men.
With distribution at a national pharmacy chain, the company is planning for expansion.
About Triderma
Headquartered in Anaheim, California, TriDerma has provided fast healing without a prescription for 21 years. Founded upon the determination of one woman seeking a natural healing solution, TriDerma now manufactures over 50 products available online and in the First Aid, Skin Care and Baby section of drugstores and supercenters across the U.S. and the world. TriDerma formulas are purpose-driven to help heal specific skin conditions without the use of cortisone, steroids, parabens or other harmful ingredients. Proprietary formulations made in the USA ensure quality and efficacy are never compromised. TriDerma is a women-owned company. For more information and a store locator go to http://www.Triderma.com. Follow us on Facebook at Facebook.com/TriDerma.