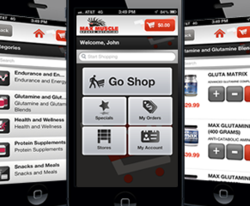 Our goal with the Max Muscle QwikCart is to help our customers stay on top of their nutritional supplement needs with easy mobile ordering and re-ordering from anywhere at any time.
Denver, Colorado (PRWEB) February 28, 2013
BusyLife Software, one of the Rocky Mountain Region's most promising emerging growth companies, will be presenting their innovative mobile commerce platform and QwikCart solution at VCIR Winter 2013. The Venture Capital in the Rockies VCIR winter conference is to be held March 5th – 7th at the Park Hyatt in Beaver Creek, Colorado. VCIR is designed to celebrate the entrepreneurial ecosystem in the Rocky Mountain Region by showcasing top companies seeking venture capital funding in the next 12 months.
VCIR selected BusyLife as one of the top early stage companies in the region. BusyLife Software leads the evolution of mobile commerce with their QwikCart application and private cloud hosted mobile commerce platform solution. The QwikCart is a unique product on the market which combines world class user design, a reliable and scalable hosted commerce platform and seamless integration with retail Point of Sales, inventory data, product pricing and shipping partner systems.
BusyLife Software will present their QwikCart application, a game changing mobile commerce solution designed for busy consumer shoppers and retail merchants to the VCIR audience of over 300 venture investors, CEOs, entrepreneurs, and service professionals.
BusyLife was founded in 2011, by Chris M. Poelma an accomplished, forward-thinking technology entrepreneur with a wide range of skills and a track record of building innovative software solution at venture backed private companies and successful public companies. Chris previously served as CTO of Microsoft's Operator Channel leading the Global Mobile Technology Platform development efforts and the Windows Mobility direction and managing the American Operator Partnerships.
The BusyLife mobile commerce platform has proven its innovative and flexible technology architecture can address the needs of any retail vertical. They have successfully launched QwikCart applications for Colorado merchants such as restaurants like Basil Doc's Pizzeria, sport nutrition products, with Max Muscle of Colorado and specialty retailers, with Applejack Wine & Spirits and Bouquets Floral, and are now focused on the hardware & home center retailers as well as the grocery market.
According to Colin Armbruster, Regional Director for Max Muscle Sports Nutrition in Colorado, "Our goal with the Max Muscle QwikCart is to help our customers stay on top of their nutritional supplement needs with easy mobile ordering and re-ordering from anywhere at any time. And, we offer the added convenience of in-store pickup or delivery to their home or office."
Basil Doc's Pizzeria owner Mike Miller said, "We aim to make life easier for our customers by ensuring they can order from Basil Doc's Pizzeria whenever, wherever and however they like and pickup at their convenience at any of our locations."
According to Chris Poelma, BusyLife Software Founder and CEO, "As part of the Rocky Mountain Region's entrepreneurial community, the BusyLife team is looking to connect with the investors and to partner with other entrepreneurs and service providers to join forces in making the Rocky Mountain Region an exciting location for innovation and a great place for investing and growing companies."
About BusyLife Software
BusyLife Software is a provider of mobile commerce solutions. BusyLife Software powers the success of merchants by providing "best in class" mobile commerce solutions which drive sales and enhance the lives of their customers. We are dedicated to the success of our merchants and a world empowered to Do More, Simply. Learn more http://www.busylifesoftware.com.