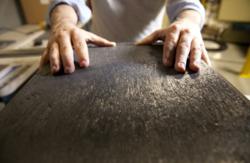 Scranton, PA (PRWEB) May 01, 2013
Vycom announced today that it has introduced Endurabond™, an engineered PVC for structural use in the marine and RV markets as part of its Seaboard family of products. Manufactured with a proprietary PVC formulation, Endurabond provides structural support for marine and RV construction that performs far beyond wood. It will not corrode, rot, splinter or delaminate and does not absorb moisture.
Endurabond has excellent bonding and adhesion properties due to its unique surface finish and formulation. It is engineered to have superior structural strength, screw retention, and impact resistance.
Available in gray with a coarse finish in ¼ to ¾ inch widths, no-maintenance Endurabond does a high performance job in inside places like under seat backs and bottoms for boats. It is very easy to work with using regular woodworking tools. The standard sheet size is 48 X 96 inches, however custom sheet sizes and thicknesses may be available upon request.
About Vycom:
Vycom, a division of CPG International, is dedicated to maintaining an environment where quality meets performance. Vycom offers the largest range of products, capabilities and inventory for all your Olefin and PVC needs. For more information, visit http://www.vycomplastics.com.