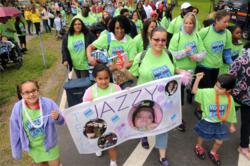 "I am proud to be part of this event to help the hospital, which is one of the best pediatric rehabilitation hospitals in the country."
New Brunswick, NJ (PRWEB) May 20, 2013
Children's Specialized Hospital is proud to announce the 2013 Walk n' Roll, sponsored by Kohl's Cares, raised a record $225,000 to benefit the nation's largest pediatric rehabilitation system dedicated to treating children affected by brain injury, spinal cord injury, premature birth, autism, developmental delays, and life-changing illnesses. This year's funding will help support the $3.5 million expansion of PSE&G Children's Specialized Hospital inpatient unit in New Brunswick. The expansion will allow the hospital to add eight more patient beds to the inpatient rehabilitation unit.
Nearly 2,000 supporters filled Johnson Park in Piscataway on Saturday, May 18. C. Vivian Stringer, head coach of the Rutgers University women's basketball team, started each walk as the honorary chairperson. Coach Stringer shared why she has special connection to Children's Specialized Hospital and the families it serves, being the mother of two children who have been affected by serious health complications – she can relate and truly has a passion for supporting children with special needs.
"I am really honored to help Children's Specialized Hospital. Being a mother of a child with special needs and having gone through a very tough recovery with my son, I know what it's like for families with the same situations," said Stringer. "I am proud to be part of this event to help the hospital, which is known as one of the best pediatric rehabilitation hospitals in the country."
This event welcomed thousands of supporters to enjoy a 1, 2.5 or 5 mile walk or roll around Johnson Park. Immediately following the walk supporters enjoyed the free Kohl's carnival where families listened to live music, played games, won prizes, enjoyed food and learn about children with special needs all for free.
The day would not have been possible without the generous support and major sponsor Kohl's Cares. Additional sponsors included PSE&G, L'Oreal USA, JBL Electric, Open Road and NJM Insurance and the 75 volunteers who donated their time and efforts to pull off such a big event, as well as in-kind donors Snapple, Jimmy Johns, New Jersey Family Magazine and Mr. Cupcakes.
Walk n' Roll chairwoman Kim Hanemann, vice president - delivery projects & construction of PSEG, was instrumental in leading the committee to a record setting year.
"We were thrilled with the support from our employees, vendors and all of the PSEG community as we fundraised for Children's Specialized all year," said Hanemann. "It was such a special day. Joining my team mates and actually getting to meet the patients that will benefit from our efforts – made all extra hard work worth it. We look forward to next year."
Last year's Walk n' Roll drew in over 1,600 community members that were able to raise over $180,000.
Children's Specialized Hospital is the preeminent provider of rehabilitation services for children with special needs. The hospital serves children affected by brain injury, spinal cord injury, premature birth, autism, developmental delays, and life-changing illnesses. Children's Specialized Hospital has ten sites in New Jersey and treats 20,000 children each year, making it the largest pediatric rehabilitation system of its kind in the nation. Services include outpatient services, acute rehabilitation, and long-term care through its sites in Bayonne, Clifton, Egg Harbor Township, Mountainside, Toms River, Fanwood, Hamilton, New Brunswick and Roselle Park as well as outreach programs in many communities. Children's Specialized Hospital Children's Specialized Hospital is an affiliate member of the Robert Wood Johnson Health System and a proud member of the Children's Miracle Network Hospitals. Children's Specialized Hospital Foundation supports the programs and services of the hospital. The Foundation is ranked among the top six pediatric hospital foundations in the country. To help, or find more information: visit http://www.childrens-specialized.org; find us on Facebook - http://www.facebook.com/childrensspecialized, or follow us on Twitter @ChildrensSpecNJ.