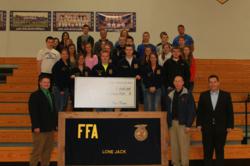 We congratulate the members of the Lone Jack FFA for their outstanding dedication and commitment to community service.
Lone Jack, Mo. (PRWEB) April 23, 2013
A heavy snowstorm prevented members of the Lone Jack, Mo., FFA Chapter from attending the recent Western Farm Show held in Kansas City, Mo. But that didn't stop the determined students at Lone Jack C-6 High School from collecting 230 items to donate to the show's annual Missouri-Kansas "Border War" food drive.
An estimated 3,000 FFA students from throughout Missouri and Kansas were expected to participate in the annual food drive as part of FFA Day on Friday, Feb. 22, 2013, the first day of the show. However, no chapters were able to make it because of a major winter storm that impacted both states with heavy snow and sleet.
The Lone Jack chapter sponsored a school-wide food drive planned for the entire week leading up to the show, coinciding with National FFA Week, with students bringing donated items to school. "I knew we would get snowed out, so I tried to encourage the students to bring their items earlier in the week instead of later," explained Dusty Davidson, chapter advisor and agricultural instructor at the school.
With school closed Monday, Feb. 18, for Presidents Day, that left only Tuesday and Wednesday to complete the food drive before the massive storm hit on Thursday, Feb. 21, dropping up to a foot of snow throughout the region and canceling classes for the rest of the week. Davidson then drove to the show on Sunday, Feb. 24, to personally deliver the collected items.
Officials of the Western Farm Show visited the school on Wednesday, April 17, to present the students with the $500 prize awarded each year to the FFA chapter that donates the most items – in this case, the only chapter that did so. Davidson said the prize will be used to support the chapter's trap shooting program.
"We have a really good group of members who enjoy doing activities like this," said Davidson, noting that the students also conduct a Christmas food drive and have also adopted a local highway for litter collection. "They're always looking for community service programs to support."
The Lone Jack chapter also won the top honor at last year's Western Farm Show food drive when students collected and delivered an impressive total of 1,381 food items to the show under more favorable weather conditions.
"We congratulate the members of the Lone Jack FFA for their outstanding dedication and commitment to community service," said Ken Dean, Western Farm Show manager. "Conducting a successful food drive despite the challenge of a major winter storm says a lot about the character and leadership of these youth."
The food items were donated to Harvesters Community Food Network, a Kansas City-based clearinghouse for the collection and distribution of food and related household products. Its network includes more than 620 non-profit agencies throughout its 26-county direct service area in western Missouri and eastern Kansas, including emergency food pantries, soup kitchens, homeless shelters, children's homes, homes for the mentally disabled and shelters for battered persons. This network provides food assistance to as many as 66,000 different people each week.
The Border War food drive will be featured again at the 2014 Western Farm Show to be held Feb. 21-23 at the American Royal Complex in Kansas City. For more information, visit http://www.WesternFarmShow.com. Like us on Facebook at http://www.facebook.com/WesternFarmShow and follow us on Twitter at http://www.twitter.com/westernfarmshow.