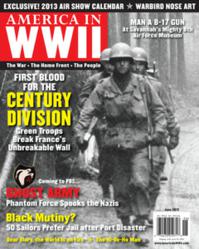 There's no problem with taking the whole family to an air show.... The shows are fun for everyone.
Harrisburg, Pennsylvania (PRWEB) May 07, 2013
With a roar of engines and a whirl of propellers, airworthy fighters and bombers from America's World War II air armada will take off at events across the United States this spring, summer, and fall. To help the public find out exactly where these old warbirds will fly, AMERICA IN WWII magazine has published the 2013 WWII Air Shows calendar in its new June 2013 issue. The calendar is also available on the magazine's website, AmericaInWWII.com, as a free download.
The events listed in the calendar—57 in all—are scheduled for venues large and small across the country. All include vintage warbirds from the Second World War.
Federal budgetary restrictions due to sequestration prompted some air show organizers, especially at active US military installations, to cancel their events. But most events are still going ahead as usual. "Enemy flak and bullets couldn't keep America's fighters and bombers out of the sky in World War II, and sequestration won't, either," remarks AMERICA IN WWII publisher Jim Kushlan.
"Many of these event organizers are used to coming up with creative solutions to keep their museums open, their planes airworthy, and their events running," Kushlan adds. "They need these events in order to make ends meet, so they're not going to let a temporary problem like sequestration shut down everything they've worked to create."
This year's calendar lists air shows in 26 states. Among the diverse and geographically scattered events in the 2013 WWII Air Shows calendar are the Mid-Atlantic Air Museum's 23rd annual WWII Weekend, June 7–9 in Reading, Pennsylvania; the 27th Quad City Air Show (which bills itself as the "largest WWII aerial salute air show in the country"), June 22–23 in Davenport, Iowa; AirExpo 2013, July 13–14 in Eden Prairie, Minnesota; Warbirds Over the Beach, May 17–19 at the Military Aviation Museum in Virginia Beach, Virginia; and the Warhawk Air Museum's Warbird Roundup, June 29–30 at the airport in Nampa, Idaho.
AMERICA IN WWII introduced its annual WWII Air Shows calendar in last year's June issue. The section will be a regular feature of that issue each year.
"The warbirds of World War II, and their pilots and crews, are among the most popular aspects of the war's history," says Kushlan. For that reason, he says, AMERICA IN WWII recently released a 100-page special issue titled AMERICAN AIR WAR: EUROPE, which will remain on newsstands at Barnes & Noble and selected other bookstores until late June. (The issue is also available by direct order on the AMERICA IN WWII website, and is on digital newsstands.)
"The amazing combination of technology and skilled operation that it took to make the old warbirds fly, the terrible danger of flying over enemy territory in a thin-skinned aircraft, and the good-natured courage of the airmen who did the job—all that comes together to make WWII aviation a perennial interest of history buffs," Kushlan remarked.
Air shows, he adds, let buffs come in close contact with the old planes and with some of the remaining men who flew them. "And there's no problem with taking the whole family to an air show, because the shows are fun for everyone."
AMERICA IN WWII magazine is a bimonthly magazine about the American experience in the Second World War—the war, the home front, and the people. It is available at Barnes & Noble and Books A Million stores, and select other bookstores.
Readers can find digital editions by visiting http://www.AmericaInWWII.com/subscriptions/ (print subscriptions can also be purchased there), or by searching for "america in wwii" on the iTunes Newsstand, the Nook Newsstand, or Google Play. A new app for Kindle Fire is available on the Amazon Appstore.
AMERICA IN WWII and AmericaInWWII.com are publications of 310 Publishing LLC of Harrisburg, Pennsylvania, a company committed to telling the stories of history in human terms.