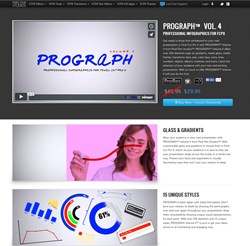 ProGraph Volume 4 is a great Final Cut Pro X plugins for making corporate or classroom presentations.
Laguna Beach, California (PRWEB) January 09, 2014
Final Cut Pro X plugin and effects manufacturer, Pixel Film Studios, announced the release of ProGraph Volume 4, a package of over 200 whiteboard info graphics for Apple's Final Cut Pro X.
"ProGraph Volume 4 is a great Final Cut Pro X plugins for making corporate or classroom presentations," said Christina Austin, CEO of Pixel Film Studios, "It helps create a theme throughout your show."
Final Cut Pro X users can now make fun and engaging presentations with ProGraph Volume 4 from Pixel Film Studios. With customizable glass and gradients, editors can choose make their presentation swipe across the screen in a whole new way. They can present their facts and arguments in visually fascinating ways that won't put their viewers to sleep.
ProGraph Volume 4 offers numerous whiteboard styles and info graphic modules. Users don't have to worry about boring their viewers by showing the same graphs over and over again throughout the presentation. They can keep the audience stimulated by showing unique visual representations for each point. With over 200 elements and 15 unique styles, ProGraph Volume 4 is sure to get ideas across in an interesting and engaging way.
With ProGraph Volume 4, filmmakers have the ability to insert their own video or photo along side the graphs. Then they can change the width or height of an average rectangle media frame, or if they like, choose from a wide range of icons and frames with in the media frame category. Scale, rotate, and position all with a click of a mouse with in Final Cut Pro X.
Editors can use the on-screen controls in the Viewer window to position their ProGraph Volume 4 element exactly where they need it on the screen. Then they can use the intuitive controls found in the FCPX Inspector window to pivot and rotate the element in 3D space.
ProGraph is now introducing transitions. Watch as the presentation is wiped away from one frame to the next with our erasing transition effects. With Pixel Film Studios' ProGraph Volume 4, users can make their presentations fun once again all with in Final Cut Pro X.
ProGraph Volume 4 was professionally designed to work seamlessly inside Final Cut Pro X. Users don't need to be a statistician to use ProGraph Volume 4, but they might look like one if they do. Editors simply have to drag and drop one of the graph layers into the timeline. Then, they can use the on-screen controls and easy-to-use parameters to customize the presentation to their liking.
Established in 2006, Aliso Viejo, California-based Pixel Film Studios is an innovative developer of visual effects tools for the post-production and broadcast community. Their products are integrated with popular non-linear editing and compositing products from Apple FCPX. All Apple, the Apple logo, and Macintosh are registered trademarks of Apple Inc. in the U.S. and/or other countries. All other trademarks and trade names are the property of their respective owners.