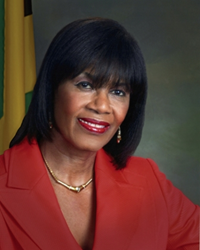 In 2012, Time magazine named Simpson Miller one of the world's 100 most influential people and in 2013 she was inducted into the International Women's Forum Hall of Fame.
Easton, PA (PRWEB) March 24, 2014
The prime minister of Jamaica, The Most Honorable Portia Simpson Miller, will be the principal speaker at Lafayette College's 179th Commencement Saturday, May 24, and will be awarded an honorary Doctor of Public Service degree.
The first woman to serve as Jamaica's prime minister, Simpson Miller is in her second term in the position. She first served from March 2006 to September 2007 and began her second term in January 2012. Prior to becoming prime minister in 2006, Simpson Miller was a cabinet minister for 17 years, with portfolio responsibilities covering, at various times, labor, sports, social security, tourism, and local government.
From modest beginnings, Simpson Miller has become an inspiration to many, in Jamaica and elsewhere, for her commitment and leadership in the areas of human rights, non-discrimination, workers' rights, and social justice. In 2012, Time magazine named her one of the world's 100 most influential people. In 2013, she was inducted into the International Women's Forum Hall of Fame, joining, among others, former British Prime Minister Margaret Thatcher and U.S. Supreme Court Justices Sandra Day O'Connor and Ruth Bader Ginsburg. She is the recipient of the International Olympic Committee's World Women and Sport Trophy and the Distinguished Award from the Mayor of the City of Miami for her commitment to urban renewal and community development.
"I am delighted that Prime Minister Simpson Miller will address our graduates and parents at Commencement. She is a dedicated, visionary leader with a distinguished record of service and accomplishment," says Lafayette President Alison Byerly. "Her nation and the world are the beneficiaries of her inspiration, courage, and passion. I know that our students, too, will be inspired by her example as they prepare to go out and make their own contributions in the world."
The Simpson Miller government is currently guiding the Jamaican economy on a program to reduce the national debt, improve its fiscal accounts, and diversify its economy, by using its geographic competitive advantages as a means to achieve sustained and appreciable economic growth. Simpson Miller's visit will provide the opportunity for discussion about ways in which Jamaica's quest to develop its economy and enhance its global connectedness might lead to new opportunities for Lafayette students and faculty to engage in scholarship, study abroad, internships, externships, and other co-learning activities in Jamaica. It has already sparked discussion of ways to strengthen Lafayette's academic community with outstanding and highly motivated Jamaican students who are interested in future leadership roles in their country's efforts to transform its economy and civil society. The College counts six Jamaicans among its alumni since 1997. In recognition of Simpson Miller's Commencement address, the College is exploring the possibility of creating an endowed scholarship fund to enroll future students from Jamaica.
Simpson Miller holds a bachelor of arts degree in public administration, as well as certificates in public relations and advanced management, from Union Institute & University. She completed the Executive Program for Leaders in Development at Harvard's Kennedy School of Government. She is a member of the Council of Women World Leaders, an international network of current and former women presidents and prime ministers. She also is a member of the Board of Trustees of the United Nations Institute for Training and Research (UNITAR), having been appointed by the U.N. Secretary General.
###
Higher resolution photo available.
For additional information, contact Kathleen Parrish, associate director of media relations, (610) 330-5524 or parrishk(at)lafayette(dot)edu.
--------------------------------------------
Lafayette is a top liberal arts college with 2,400 students and 215 full-time faculty that offers a wide variety of undergraduate degree programs including engineering. With close proximity to New York City and Philadelphia, Lafayette has one of the highest endowment-per-student rates in the nation. This means ample resources to fuel student research, and provide opportunities for study abroad, internships and field work. It means outstanding facilities, Division I sports, funding for 250 student groups on one of the most beautiful campuses in the country.
--------------------------------------------
Kathleen Parrish
Associate Director of Media Relations
Lafayette College
Communications Division
Easton, PA 18042