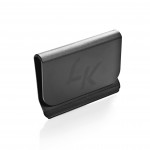 Lickety Klip is not a belt; it's a slim, discreet plastic clip you slip over the front of the waistband on jeans or pants, trapping the tab and flattening the front of the outfit.
Orlando, FL (PRWEB) August 12, 2014
Lickety Klip is an ingenious solution to a common complaint: the button tab fabric in a pair of jeans has a tendency to curl outward, poking through a shirt, top, or sweater. This curled fabric nub can sometimes rub an unsightly hole through a shirt in just one wear!
Upon ruining top after top, Jessica Dighton, the inventor of Lickety Klip, scoured the internet and picked the brains of family and friends for a solution, with no success. When life offers lemons, entrepreneurs make lemonade. When jeans rub holes in tops, this mompreneur invents her own quick fix! Jessica and her husband, Orlando businessman Tony Dighton, brainstormed a way to prevent button tabs from sticking outward in the first place. Pretty soon, Lickety Klip was born.
Lickety Klip is not a belt; it is a flat, durable polymer clip that slips over the front of the waistband, trapping the tab and flattening the front of the outfit. Lickety Klip is thin, discreet, and is available in four popular colors: denim blue, black, white, and brown.
The patent-pending design of Lickety Klip is simple, yet ingenious and effective. The clip has a wide, flat front and the back curves under, to keep the clip comfortably in place. Lickety Klip is the last accessory women will ever need to prevent tiny holes in shirts and tops and to flatten the silhouette in any outfit. This multi-solution accessory is proudly made in the U.S.A. and priced at an affordable $9.99, so fashionistas everywhere can own one in every color to flatter every outfit.