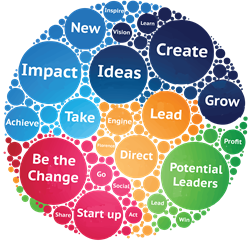 Over a decade after the dot-com bubble, the entrepreneurship bubble brings a wave of innovation around the world.
Washington DC (PRWEB) January 31, 2014
The team at Aveya Creative likes to keep things strategically simple, guided by solid principles set by Founder & CEO Mariya Bouraima. Introducing the E2E concept: Entrepreneurs who work exclusively with fellow entrepreneurs, sharing enthusiasm and creative know-how to make each brand stand out in its own perfect niche.

Entrepreneurs have big dreams. Aveya Creative helps make those dreams a reality by getting the word out effectively to the right audiences. Whether starting from scratch for a name, a logo and brand strategy; simply needing to keep social media fresh and engaging; perhaps do a simple sweep of the website to optimize the copy; or lead a complete makeover for the brand, Aveya Creative works with clients one-on-one to make sure that each move is strategic and results in maximum success.
Entrepreneurs don't all have Bransonian budgets. Aveya Creative gets that. To many treps, "office space" is comprised of a couch and a MacBook. The beauty of working with Aveya Creative is that branding and marketing expertise is available for as many (or as few) hours without the need to pay salary for on-site marketing reps. The team at Aveya Creative is proud to pay personal attention to every project while keeping rates competitive. There are no monthly retainers, no minimums; even the invoice structure is flexible.
To entrepreneurs, business is personal. The brand becomes more than a business identity; it's practically part of the family. However, an ordinary creative agency would see clients as numbers on a list, often lost among the shuffle. Aveya Creative treats all clients, no matter the size of the project, as important individuals with unique needs; respond to challenges with custom-created solutions.
Amid dozens of success stories, these projects highlight the unique skills and dynamic work habits found at Aveya Creative: Triple-bottom-line companies Shea Yeleen and YouthTrade both benefited from exponential social media growth in just a few months, Transit Labs went from a complex technical concept to an easy-to-understand tool for the nation's public transportation systems, PlateDate stands out thanks to a clear tagline and catchy copywriting, Manjjaro is taking the lead in African-inspired fashion, Poppyor pops with a new logo and Zuriworks grows its network of healing with increased financial support and visibility. The talented team at Aveya Creative is excited to be part of the next big thing -- wherever that may be!
--
Aveya Creative is proud to be the only boutique branding and marketing agency in the nation's capital dedicated exclusively to entrepreneurs. Our mission is to transform ideas into top-of-mind brands. Core services include brand strategy, logo design, optimized copywriting, ad creative, press releases and social media engagement. The team at Aveya Creative is proud to have developed branding and marketing for entrepreneurs in diverse industries across the United States, including prominent tech startups at incubators such as 1776 DC.